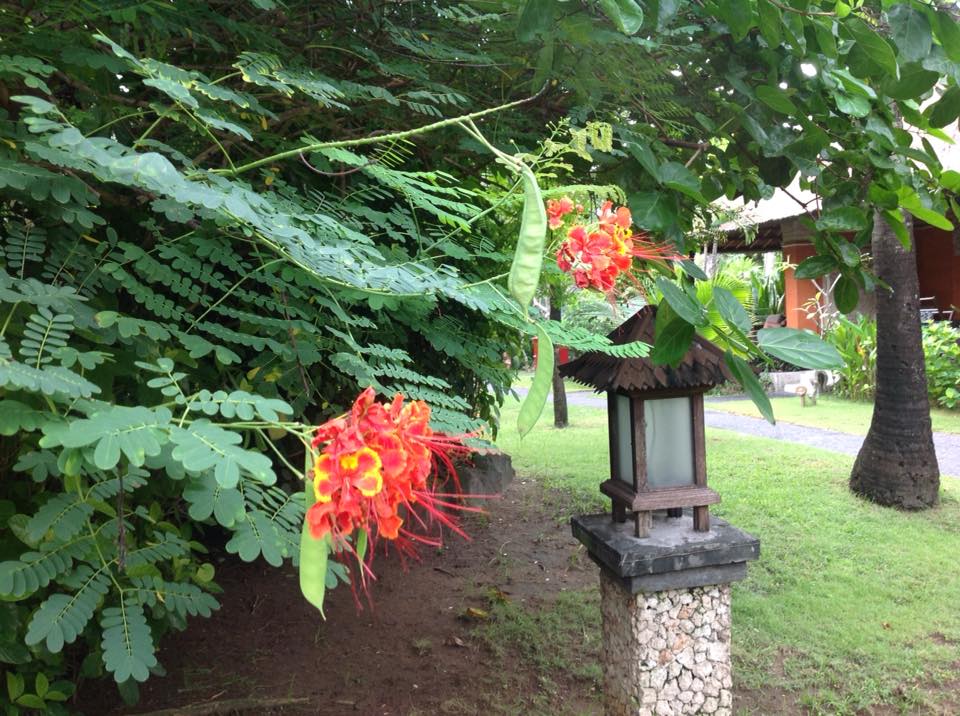 I would like to share with you my very personal journey. One that took me to Bali, a place of Spiritual healing and miracles!
In June 2017, I boarded a plane to Bali as a very sad and broken Soul. I had lost my dear Mum on my birthday just 6 months before and my Dad just 3 short months before my Mum. I had nursed them both for 3 years after returning to South Australia from Perth in 2015.
My husband of 27 years and I had divorced in 2015. After living in Perth for 20 years, I relocated back to my home town of Adelaide. It was my choice. From the time I had arrived in Perth in 1995, I never felt that Perth was my home. I tried. Believe me I tried. I left behind a good job, friends and a lifestyle. I cannot explain it but it just never felt right to me. (Maybe you know what this feeling feels like?)
Before I met my husband, I had always wanted to live and travel the NSW Coast, it was my dream. That dream never left me during those 27 years. I lived with it daily. Whereas it was my husband's dream to live in Perth. He never wanted to leave and I never wanted to stay. It ended us. Another dream or "calling" I had had was to always work full time sharing my Psychic and Spiritual Gift full time through my Readings, Books and Lessons.
Moving my life from Perth to Adelaide certainly took it's emotional and physical toll on me. I went straight into the role of caring for my parents full time and never had the time to grieve my divorce.
During this time, I tried very hard to keep my life on track. I worked casually as a waitress when I could. At the same time, I had a lot of other personal things absolutely devastate me.
I went through 3 years of hell and at the time of boarding that plane I really didn't care if I lived or died.
I was constantly nauseous and had lost over 10kgs in weight those past 2 years. How I never run out of tears I will never know. I had become a shadow of my former self. I didn't just have a broken finger nail or a headache, I had life changing traumas and dramas happen to me. Unbelievable, one after the other after the other. Even my friends found it hard to cope with and for me!
To date, it had only been my Spiritual beliefs and my very special Psychic Readings, the launch of my first book "Caught Between Two Worlds", working with children when I could on a Psychic Level and writing my next 2 books that stopped me from doing anything "silly." Thankfully.
I was again "Caught between two worlds." Grief, sadness and despair had taken hold of me well and truly BUT I continued to put on my "brave face" every morning when I got dressed!
I was caught between my physical human world and my Spiritual world. and it was my Spiritual work that kept me getting out of bed every day!
It was hard. So very hard.
I had worn my "Team" out. So, decided that we should all go to Bali on a holiday.
I arrived at my hotel in Bali very late at night. And as I had done every night for the previous 730+ nights (and days), I cried myself to sleep. I told my Team that they deserved time off ! They had done their best. I had come to the island of healing and that's what I was hoping for. Healing!
And that's exactly what I got and this is my story about my "BLESS, PRAY, LOVE" Healing experience in Bali.
Waking the next morning, I realized I was in paradise. I had no feelings about that. Not about anything.
I had a chat with my "Team of very special Guides", (those of you that know me, know who I am talking about). I told them to take the 2 weeks off and enjoy the environment. I told them that Bali is an incredibly Spiritual Island and that if I could find "Healing" anywhere, it would be in Bali".
I felt Blessed
I Prayed
I felt Loved
I dragged myself to the upstairs dining room for breakfast. I felt like I weighed 200kgs. I loved Bali and even knew how to speak Indonesian as I sometimes came to Bali to visit children in orphanages.
But I didn't particularly want to be there or anywhere.
But what kept me going was the very fact that I was in one of the most Spiritual countries of the world and I was determined to find help.
I prayed for help.
As I looked out the window at the people enjoying breakfast by the pool, I saw 4 familiar faces!
It wasn't?
It couldn't be?
It was!
My Mum, dressed in bathers and sarong was sitting next to her Dad (my Opa) (shirtless, enjoying the filtered morning sun).
My Dad was sitting next to his Dad (my Opa) (both were also shirtless enjoying the morning sun).
They looked so very happy.
I watched them enthralled.
This was perfect! Just perfect.
They were reunited in Spirit and enjoying Bali.
Tourists walked up to what they thought was an "empty table" but always walked away. No one could bring themselves to sit there. They must have felt their energy! Interesting isn't it.
I was so happy to see them reunited.
I went back to my villa and cried. And wrote in my Journal praying for healing in Bali. Praying for peace in my heart and Soul. Praying for someone, anyone to help rescue me from the darkest depths I had ever been in in my life. I have never felt so very alone. I even wondered if anyone would notice if I was gone?
I prayed day and night. I wrote day and night. I walked the beach day and night. I cried day and night. I had a complete breakdown that I really didn't think I would ever come back from.
My friend Ruth was staying in Bali with her Balinese friend Atta at the time. She'd messaged me to see if I was ok as she hadn't heard from me. I replied that I wasn't and she came straight around to see me.
I asked her to ask Atta if he knew of any Traditional Balinese Healers that I could go and see. He responded that he didn't know of any. We agreed to catch up later as she wanted to keep an "eye on me!" I really was blessed to have Ruth there in Bali on holidays at the very same time as me and this is where the miracle begins!
The next morning, I received an urgent message from Ruth. Atta it seems had had a dream during the night about a friend of his that he hadn't seen for years. Her name was "Ina." He asked if I would like to go and see her, which of course I did and as it so happens, was free that very afternoon.
It's taken me this long to write this story because I wanted the miracle to continue to unfold so that I could write about the whole experience. The experience of bringing my Bali miracle home with me into my life.
Come with me on a journey into the very Spiritual world of Bali ~ An Island of Miracles ~
We drove through busy Bali traffic for 2 hours to visit Ina at her Home/Clinic. Ina works under the banner of "Hands of Light Bali." Now I know why.
Ina was waiting for us outside her little home. We locked eyes and held our arms out to each other. I had come to the right place at the right time. Ina knew it too. Ina then greeted her old friend and translated for me.
Ina invited me into her clinic room and I sat on a chair facing her surrounded by candle light and fragrant oils and something else…..was it Angels??
Ina held my hands and looked deep into my Soul. Such was our connection, one I had never felt before, except when in depth talking to my "Team." I've always been able to do it for others but had never felt someone Reading me the same way. Ina was Love. Pure Love. Pure Spirit. A natural healer.
She said to me "You prayed for me, I am here to help you."
Ina used a traditional "tapping" method to work on me. I began to feel different almost straight away. After this she invited me to lay on the bed. Ina began her traditional Balinese healing which put me into a deep restful sleep.
I was woken by the smile and touch of an Angel ~ Ina.
We looked deep into each other's eyes and just knew that a healing had taken place. There was no reason for words.
After a while we rejoined the others and drank red rice tea. I felt at peace for the first time in a very long time. I sat in silence wondering if I had just experienced the "Real Bali?" Not many tourists would ever get to enjoy such a profound experience. (Ina has now opened her clinic in Bali entitled "Hands of Light". I can give you the details if you would like to have a session with her!)
Ina promised she would stay in touch and check on me daily.
After a week in Legian my lovely friends gave me a lift to Lovina on the other side of the island, 5 hours away where I was to spend another week. The resort had only 10 individual rooms. No TV and it was right on the water's edge. It was very peaceful and the perfect place to heal and "find myself" again.
On my first day I sat at the water's edge relishing the warm sun on my body….that felt healing in itself. I was in a world of my own.
Suddenly, albeit gently, I felt a little person snuggling against me, stroking my hair. I looked up into the Angel eyes of an amazing 10 year old Balinese girl (see photo). She said to me "Why are you so sad? I know your heart is very sad, I can feel it. Come and swim with me in the ocean." A wiser Soul I had never met. Naomi kept me company at all the right times over the next week, always making me feel better with her beautiful Angelic energy. Sometimes, we didn't even talk, she would just slip her little hand into mine. Her little brother was the same. Just so incredibly Spiritual and special.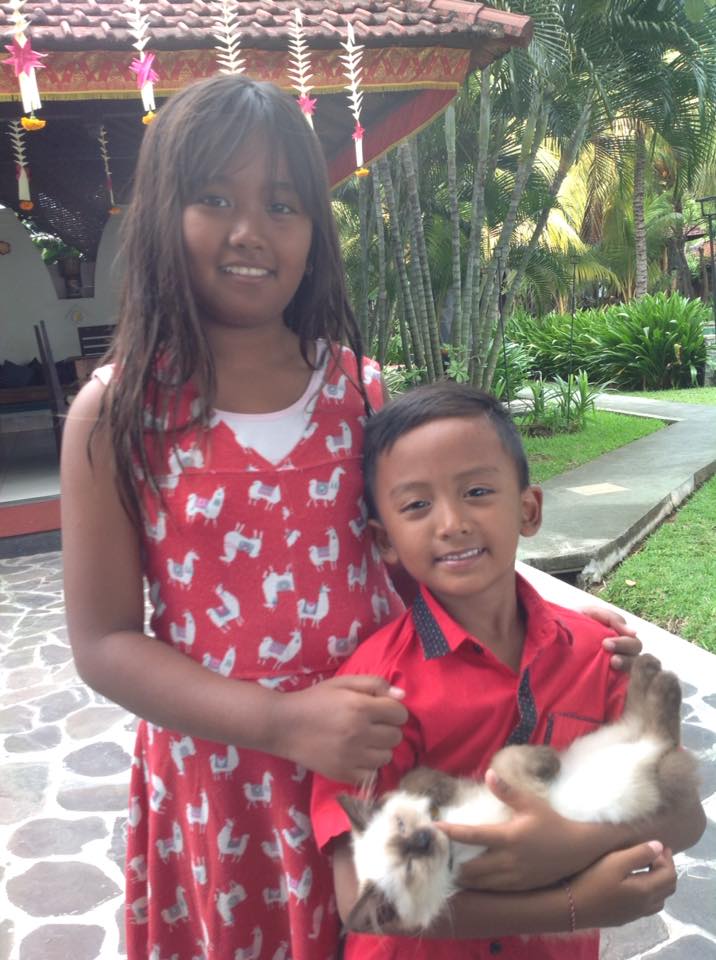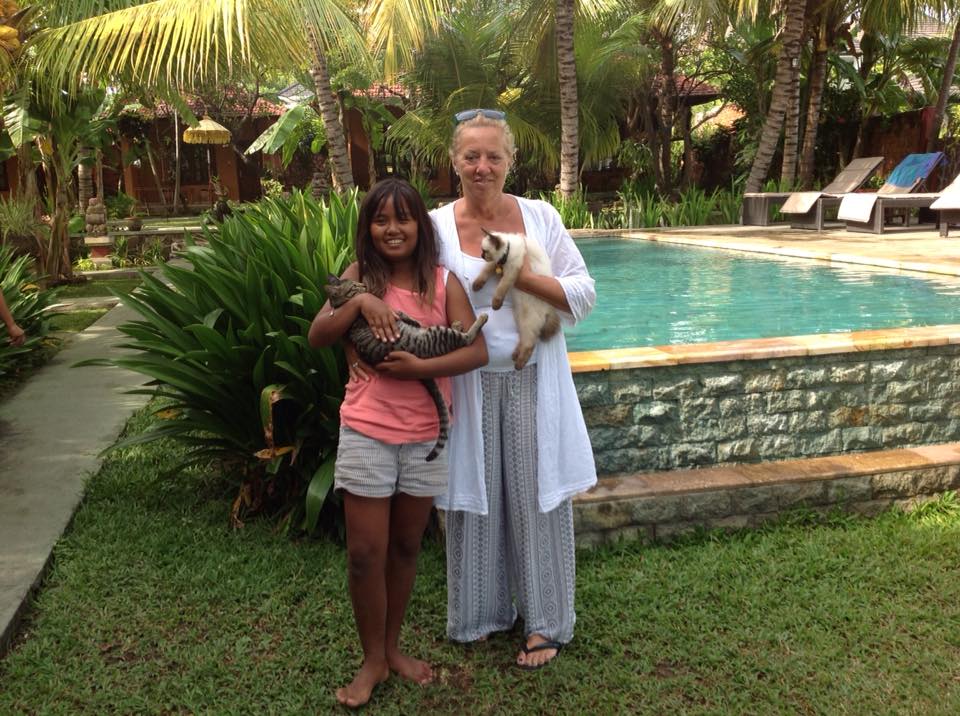 Somehow, I certainly felt that I was "meant to be here at that very point in time."
During my second afternoon, my pangs of loneliness and despair again hit rock bottom. These are very scary feelings. I messaged Ina and asked her if she knew anyone in the Lovina area that could provide a healing for me in a similar way to the way she worked. Ina told me she would make contact with Ratna and ask Ratna to contact me. Within 20 minutes, Ratna and I had made contact and she was on her way to see me.
If Ina, had been an Angel, then Ratna was my Guardian ArchAngel. Help had arrived!! With Wings on!
Ratna and I sat in my Villa and despite the language barriers, connected on a level deeper than anyone I had ever connected with before. Words were not necessary.
I cried so hard that I feared we would both drown in my tears. At that point, I would have been very happy to. I felt like life had left me altogether. Ratna was my last hope here on this beautiful Spiritual island.
It was 2pm in the afternoon. Ratna told me she was a Balinese Priestess. She told me too that she had dreamt of me just 3 nights earlier. In her dream, she was shown a woman in extreme distress after losing 3 very important people in her life. (That was me alright!) Ratna went onto explain that "The Lord had come to her telling her that she would meet a Western woman who needed her help and she would know me when I arrived."
Indeed, Ratna and I did know each other……perhaps, but not from this lifetime.
Like Ina had done just a week before her, Ratna gave me a tapping session and traditional Balinese Healing. After the healing, Ratna gave me a message that she had been given from her "Lord."
"Marion, you must come to my house tonight at 5:30pm. I must do a traditional ceremony for you."
I told her that I had no way of getting there as the village was quite isolated and there were no taxis. I was reluctant to go on the back of her motorbike as I'd heard way too many bad stories about Aussies on motorbikes!
The staff at the hotel had told me upon my arrival that should I need a driver, I would need to book it in the morning and not at any other time. I relayed this message to Ratna as I had no way of getting to her home for the ceremony.
Ratna said that she would talk to the Hotel owners herself and explain the situation. When we got there, their local Driver, was standing around. Ratna explained what she needed and he explained to her that "he was never around the hotel at this time of the day but today just felt compelled to stay and of course he would be more than happy to help us out by taking me to Ratna's home, waiting for me and bringing me back to the hotel safely."
Ratna expressed her thanks and left on her little scooter, long black hair flowing gracefully behind her.
Leaving me feeling hopeful.
I had never been to a local Balinese home before, let alone that of a Balinese Priestess.
I felt Blessed.
I had Prayed.
I felt Loved.
I was ready.
I surrendered.
Ratna's home was small but comfortable. A large temple and burning incenses greeted me at the gate an hour later. Ratna had a room where she conducted her services. It was big enough for the two of us (see photo). It had obviously been used a lot.
Ratna and I knelt next to each other. I followed her lead. It was just such a very special moment being allowed into this very sacred side of the Balinese culture as a Westerner. I felt like I was trespassing culturally and also potential betraying my Team, but I also felt safe and I certainly knew to trust.
During the ceremony, Ratna blessed a bucket of water then ladled 3 scoops into my mouth for me to drink. She then tipped it all over me to "cleanse and bless" me as instructed by her "Lord." I was then anointed with the traditional rice between the eyebrows.
I wasn't sure what I was feeling. Out of place somewhat, but I also trusted her. After all, she had dreamt about me and she had made the time to help me.
After the service, Ratna again shared messages from her "Lord" with me. She told me that for the next 3 days, she would help me.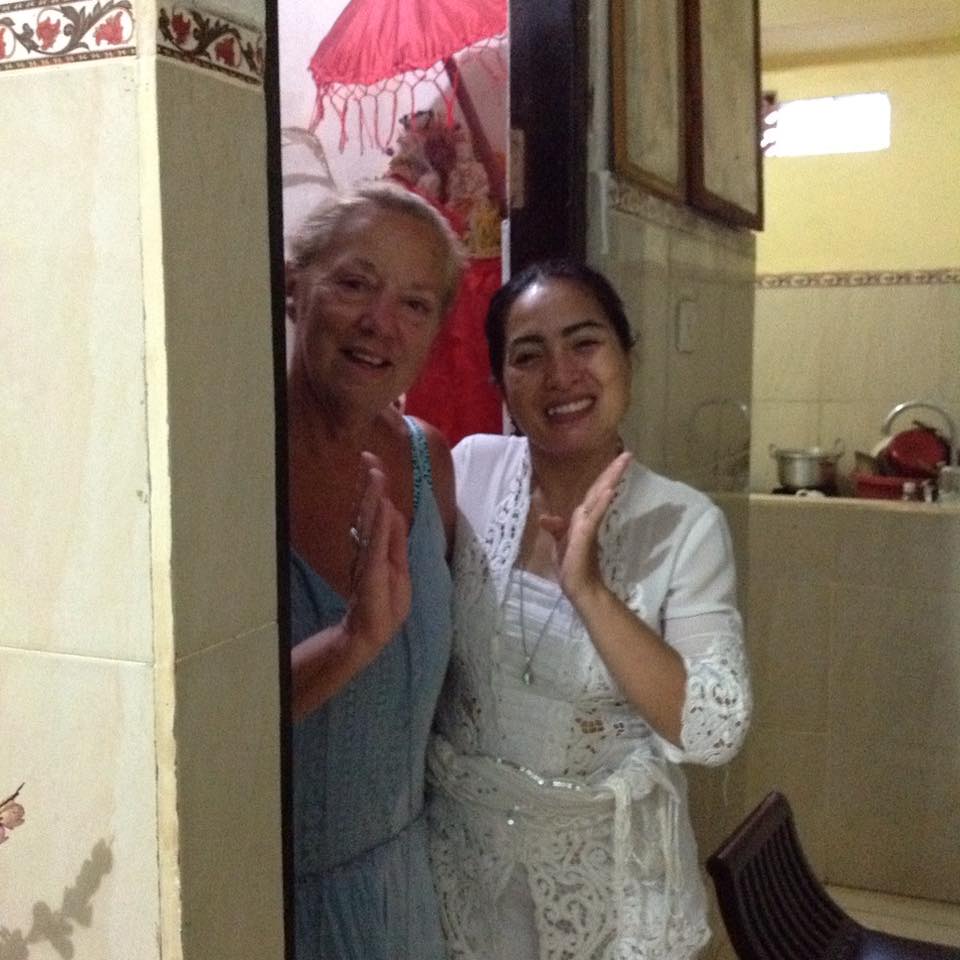 Firstly, she would meet me at sunset at the hotel tomorrow for a "Water Ceremony." She advised she would bring the offerings and I would need to swim in the sea after the service.
Ratna said that she would arrange with her local Priest at her local temple to conduct a Cleansing and Healing ceremony on me for the day after. We would then continue on to another temple for a different ceremony and then finally have one last ceremony at the "Goddess of the Sea Temple" 68 kilometres away and that her husband and family would come with us.
This was not something ever offered to Westerners.
I was Blessed.
I prayed.
I felt Loved.
Ratna continued that on the third day, she would come visit me again for a last tapping and healing session before I left to returned home to Australia.
After the first ceremony at her home, I returned to the hotel driven by my driver who had waited patiently.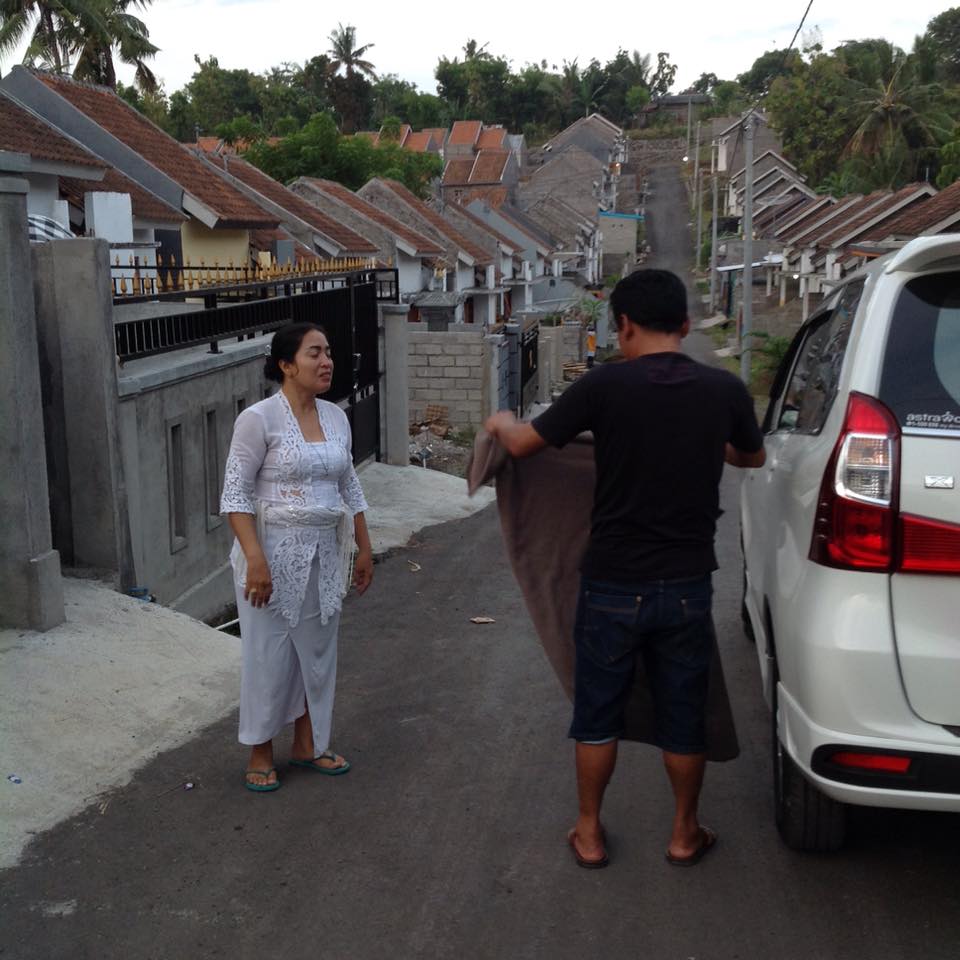 That night was the first time I did not cry myself to sleep.
I woke the next day feeling hopeful and spent the day swimming and continued writing. My own "Team" were still on holidays! It was the weirdest thing for me not being able to talk to them on a daily basis for the whole two weeks I was in Bali. But, I knew I was in safe hands. I didn't feel alone.
Just before sunset, Ratna rode in on her scooter in her traditional white Priestess dress. She looked beautiful bringing with her the obligatory offerings for such a service. The sun was setting pink into the ocean with its golden trail weaving a path amongst the gentle waves to us sitting on the beach. The smell of frangipani's and incense filled the area and I was transported into Ratna's world.
We sat together on the beach in the warm early evening area and held hands. Our beautiful young Naomi, joined us also. I felt their Angelic energy and just "knew" to trust them.
Ratna prayed aloud to the Goddess of the Sea. (Me, I love the sea, anyone who knows me, knows that and it all felt just so surreal). Just like the day before, Ratna, blessed water and ladled it to my mouth asking me to take 3 sips, before pouring the remainder over me, blessing me. She then asked me to take a swim and go right under the water and come back to her so we could put the offerings in the ocean.
When I came back to the beach, Ratna handed me one of those beautifully woven little bamboo baskets that you see everywhere in Bali, filled with coloured flowers and incense. She asked me to float it into the golden path of the sunset. (Even as I write this now, I have tears in my eyes! Tears of Love and Magic and Gratitude).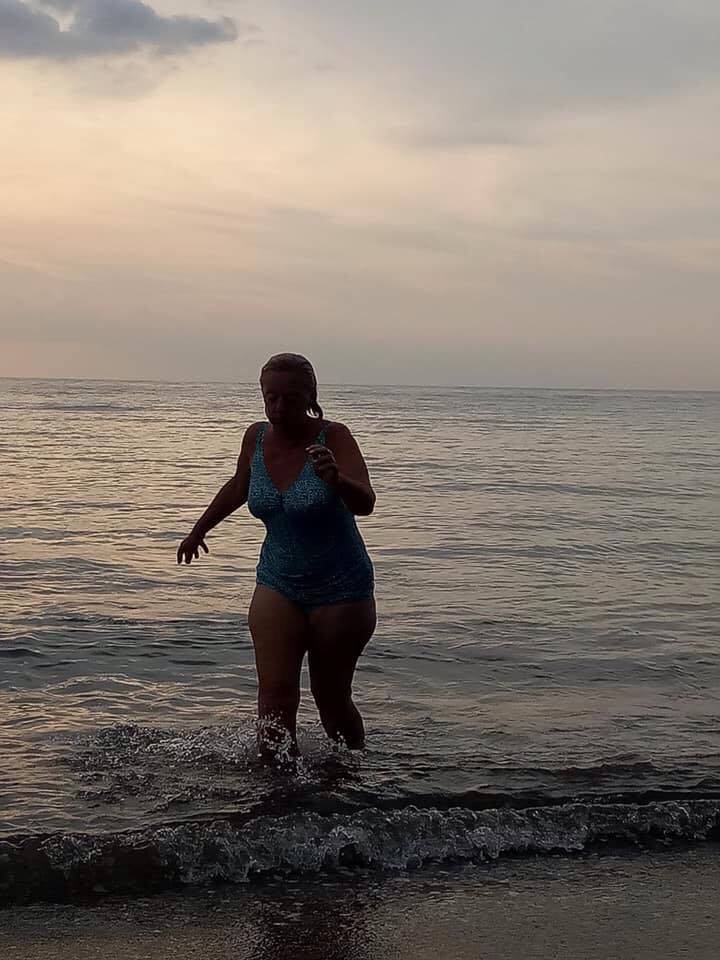 Blessed by the Goddess of the Sea in the ocean
I did as she asked and as I did so, I felt that my Mum and Dad were with me. They gave me this message "Marion, we hoped that by us being in the Spiritual Realm that we would be able to help you. We see everything so clearly now and we were in a rush to help you. However, we feel that by rushing to your side "just because we are dead", we missed the very important step of learning how to heal you and bring you peace and instead despite our best efforts, we have actually made it worse for you. Please don't be mad at us, we are so very sorry, but please know we did it in Love."
I cried. They cried. Then we hugged and they told me they would leave me in Ratna's Blessed hands and they would go and learn all they needed to learn. My Mum and Dad and I had used the Ouija boards for our own Spiritual growth over the years and to keep in contact with their family that had passed before them. We knew what we were doing. You have to. Doing the Ouija board with my parents was such a very special experience. Pure Love. Pure Spirituality and so many wonderful teachings.
I told my Mum and Dad that I just loved them so very much and was so grateful that they had tried to help me get over my sadness and grief. I told them I could never be mad at them for trying to help me. My Dad had always thought the Spiritual realm was absolutely fascinating and would talk about it with me for hours. For my Mum, it was matter of fact and normal. Her own sister and Dad (my Opa, now on my Team) were very Gifted psychically and Spiritually.
I wanted to stay there with them forever but it was getting dark and I was mindful that Ratna had a husband and 3 kids at home that needed their dinner.
When I returned to sit with Ratna, we held hands and talked about the incredible feeling of "Unconditional Love and Healing" that we had just experienced.
Again, Ratna, dabbed rice onto my forehead. I don't know any other Westerners that have experienced something like this but for me, it was incredible.
Ratna and I said "I Love You" to each other. We knew we were bonded for life. Ratna told me that she "knew" she had to help me and was very happy to do so. She had helped others in her time, but always Balinese, never a Westerner.
Ratna had helped others in her time, but always Balinese, never a Westerner.
I felt Blessed.
I kept Praying.
I felt Loved.
And now I felt Safe.
I have visited Bali many times and have always been intrigued by their beliefs and ceremonies. I've often stopped to watch and feel the energy. Their energy is one of Unconditional Love and Acceptance. It's an energy we don't get to feel here very often at all….unfortunately.
I've always longed to belong to such a deep faith and level of tradition. I've often felt envious of their connections and strong beliefs and their sheer acceptance as "normal" of the Spirit world.
Ratna and I experienced such a strong connection. One that neither of us had ever experienced before. She told me that she totally accepted that she was to give me these 4 days of healing. Her "Lord" told her in her dream and here I was in real life.
Ratna knew to trust.
I was learning to do the same.
Before she left, Ratna gave me the schedule for the following day. It was intense and would find me immersed totally in the Traditional Balinese culture and beliefs.
I trusted the whole process implicitly.
That night, whilst I was exhausted, I slept really well.
The following morning, Ratna, again looking beautiful dressed in white whilst her husband and 3 children were also dressed in traditional temple dress collected me from the hotel at 8:30am. We drove to her parents home where Ratna prayed at the family temple.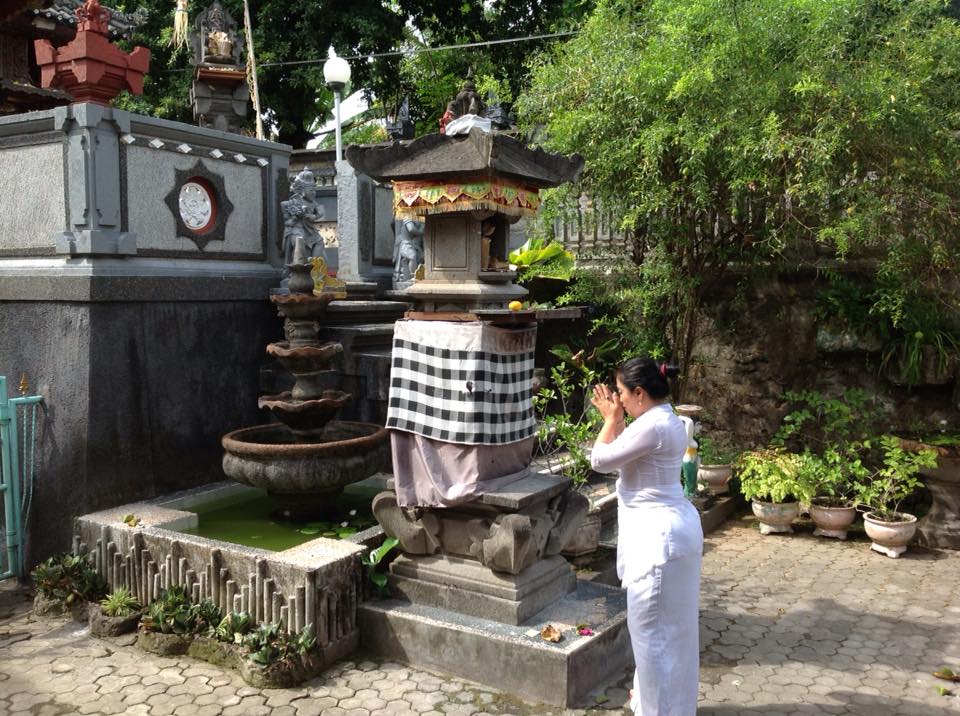 I met her Mum, Dad and family. (see photo). Ratna's Mum made had made the big offerings that Balinese leave to the Gods at each ceremony. I expected little ones, like the ones you see outside shops but they were large and very elaborate. I had bought small gifts and money to be included. I was touched that all these people were going out of their way to help "Me." Unconditionally.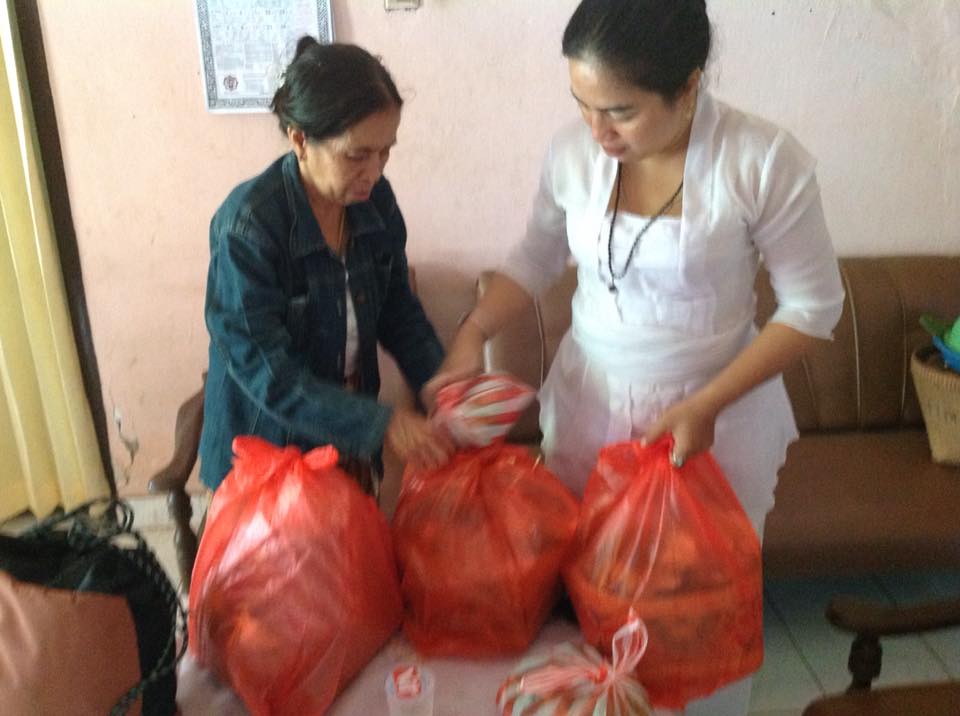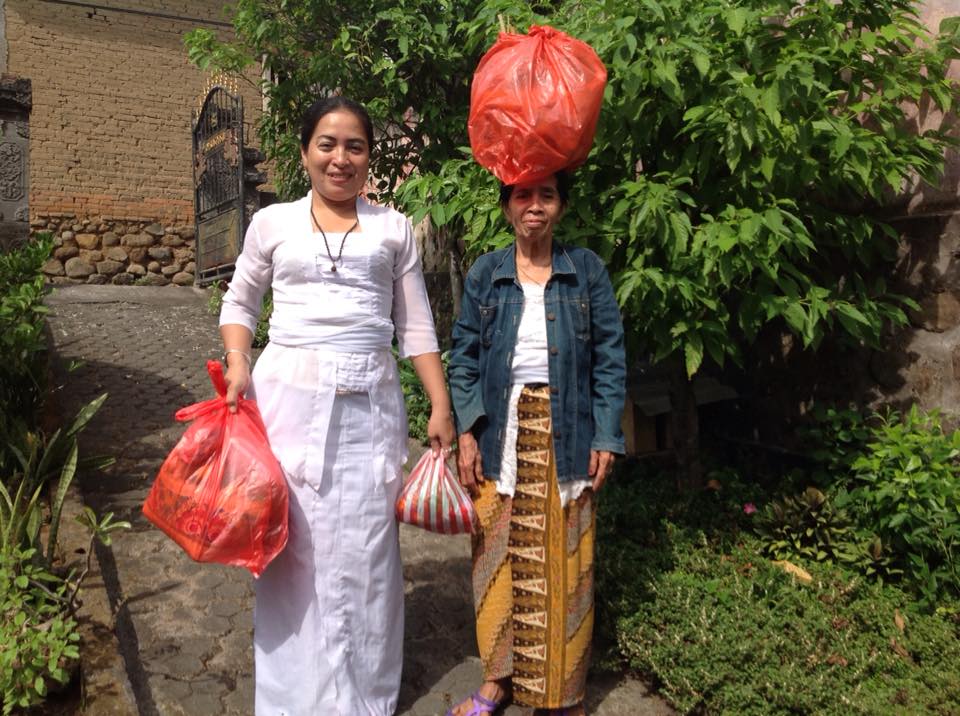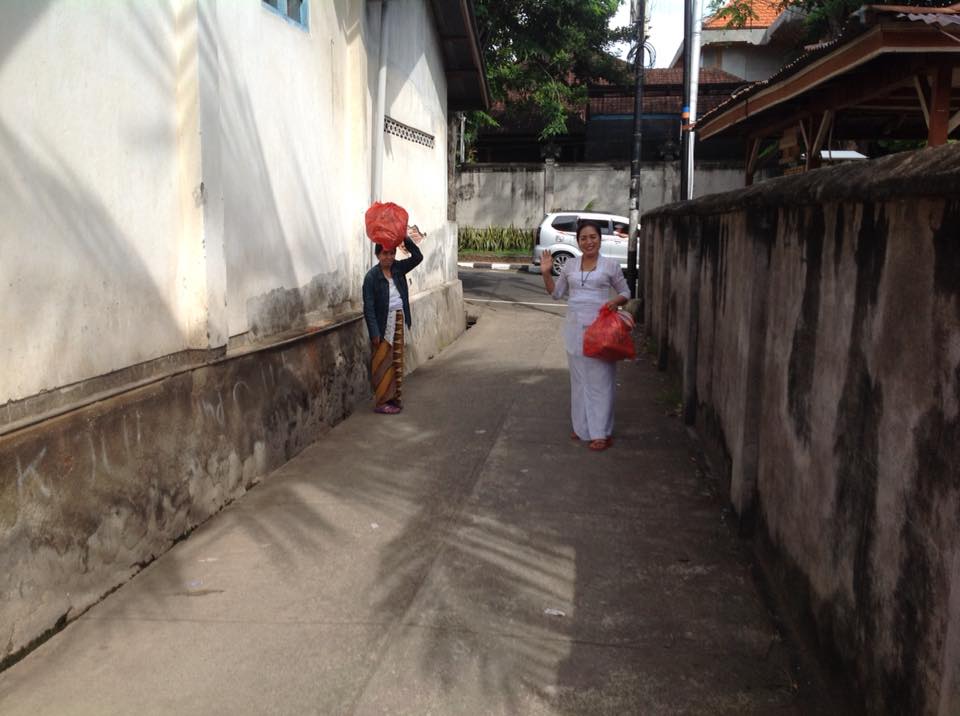 Ratna's Mum was absolutely beautiful and reminded me of my own. She was half the size of us but easily carried the offerings on her head unaided. (see photo).
I felt very humble.
I was experiencing exactly what I'd prayed for! This was the REAL Bali!
Believe me….I KNEW the difference. Let me quickly share that experience with you……
…..A few years earlier, my girlfriend Nairina and I stayed in Ubud. It was one of my dreams to sit in a session with the real "Ketut" from the Julia Roberts movie "Eat, Pray, Love." We were so excited that Ketut had two sessions available on the very day we wanted them.
On the day we arrived, we paid our $75 AUD and sat in EXACTLY the same place as Julia Roberts had sat. We sat with the exact same man….Ketut Liyer. My friend went first. I videoed her session for her. It was very moving and touching.
It was then my turn. Nairina videoed my session.
My "Reading" was very moving and touching and also….very familiar.
It was exactly the same as Nairina's AND EXACTLY the same as Julia Roberts we found out later when we again watch the movie!
Unbelievable. I wonder if Julia knows!
That's how I knew the difference that my experience with Ina and Ratna WAS in fact pure.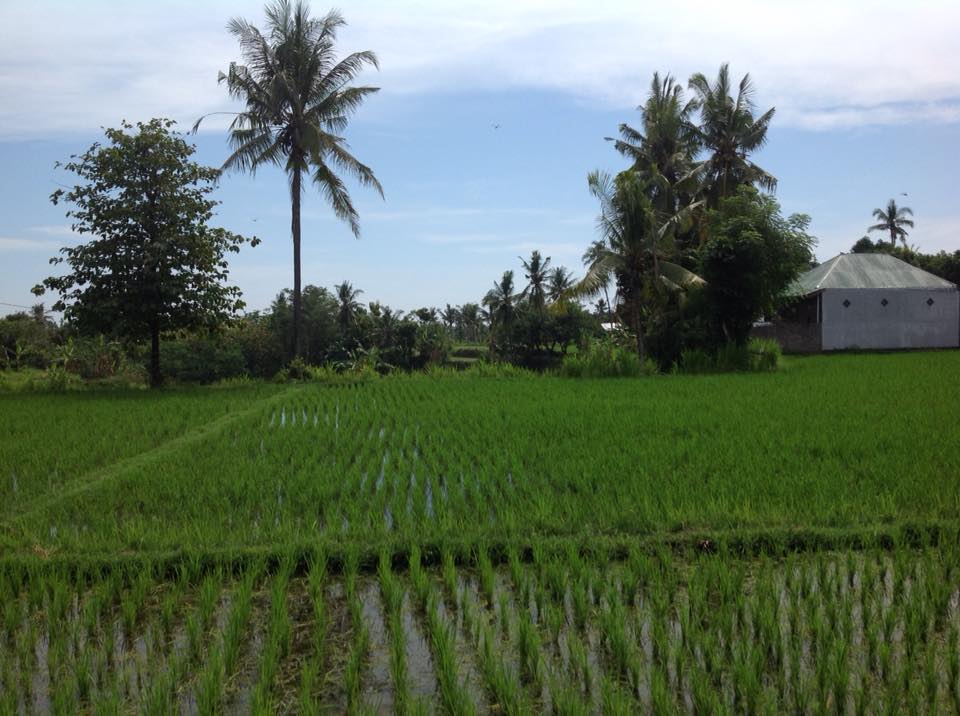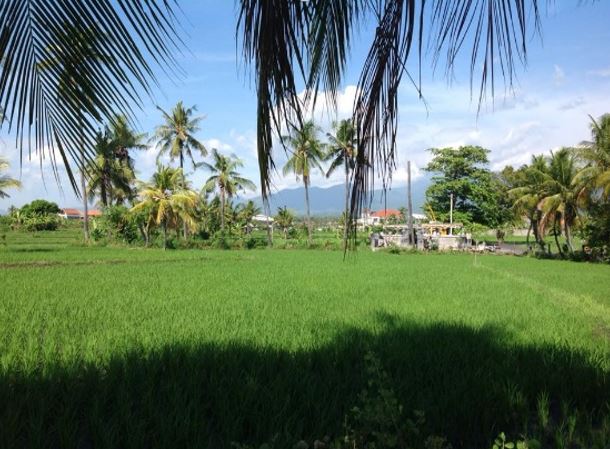 Anyway, I digress, but felt it important enough to share. We all piled into the family station wagon and headed to their Family Temple "Lebah Temple." I followed Ratna and her family around and silently prayed to my Angels and God whilst they prayed to theirs. I apologized to my Team, Angels and God for "following a different faith that day" BUT I was so desperate for help that I hoped they would understand.
Water was blessed and drunk by each of us. Ratna placed rice on our foreheads. (see photo)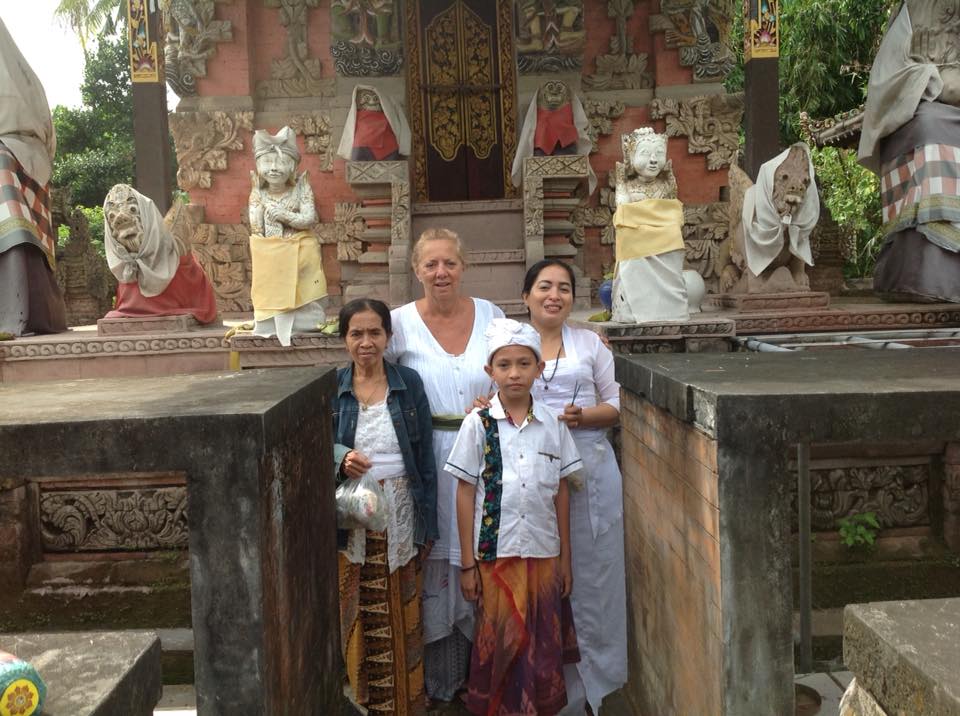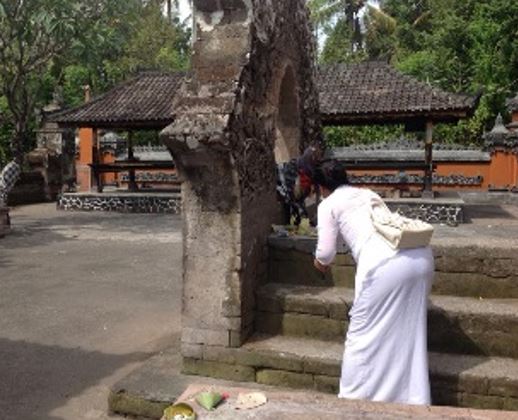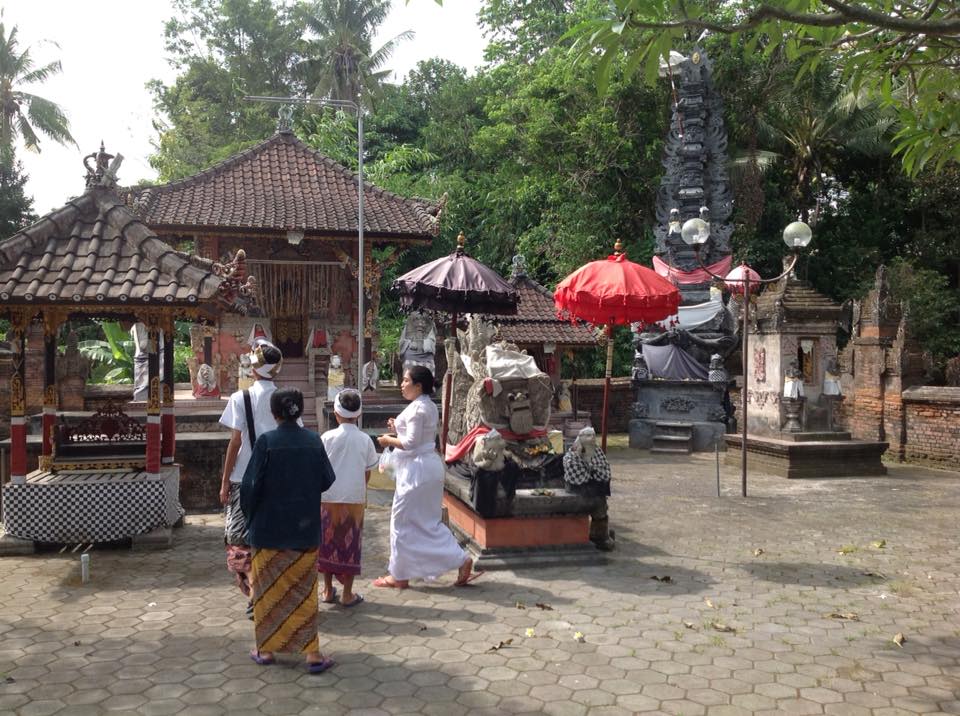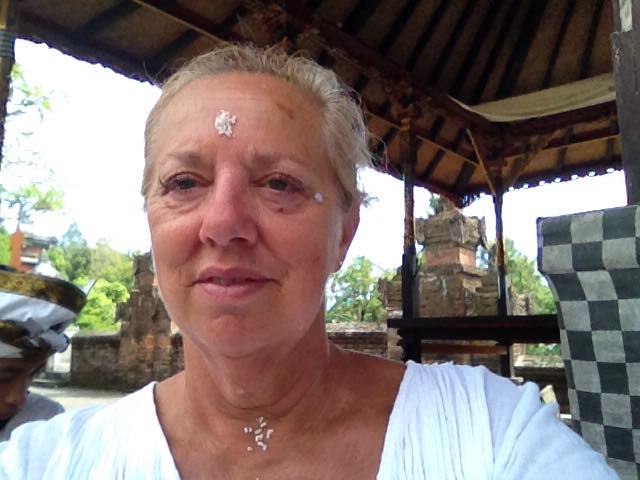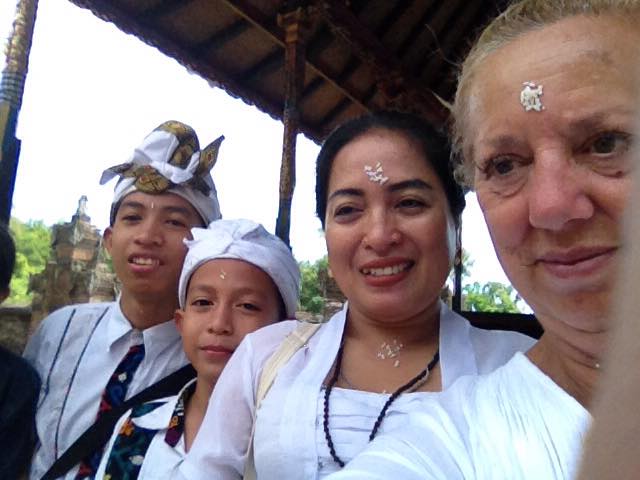 I felt like I had totally placed myself in their hands for the day in the hope that this day of healing would REALLY make the difference I needed. I had prayed for a Traditional Balinese Healing and certainly was experiencing all of that and more. It all felt so very surreal.
I was the only English speaking person in the car and at all the temples but have never felt more totally accepted than I did that day.
We headed off again, this time surrounded by little villages, palm trees and rice fields. I was so immersed in the day and whilst I was a total outsider to this family, I had been made to feel completely loved and welcomed. I spent the time in the car holding Ratna's Mum's hand and the time out of the car holding Ratna's.
Ratna never questioned her role in my life at that point.
Nor did I but it certainly WAS surreal.
We arrived at Suwug Village where I was to shower in the traditional town baths. (see photo).
Earlier in the week, Ratna had met with her Priest and explained my situation to him. Ratna knew that I was a naturally Gifted Psychic Medium but never told anyone. Not even the Priests.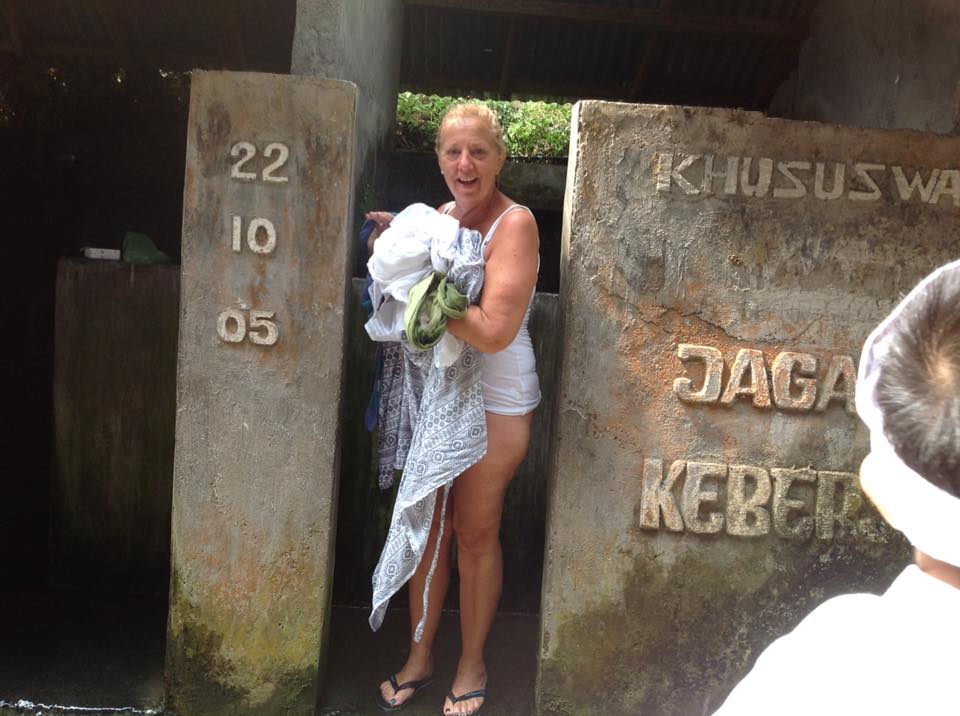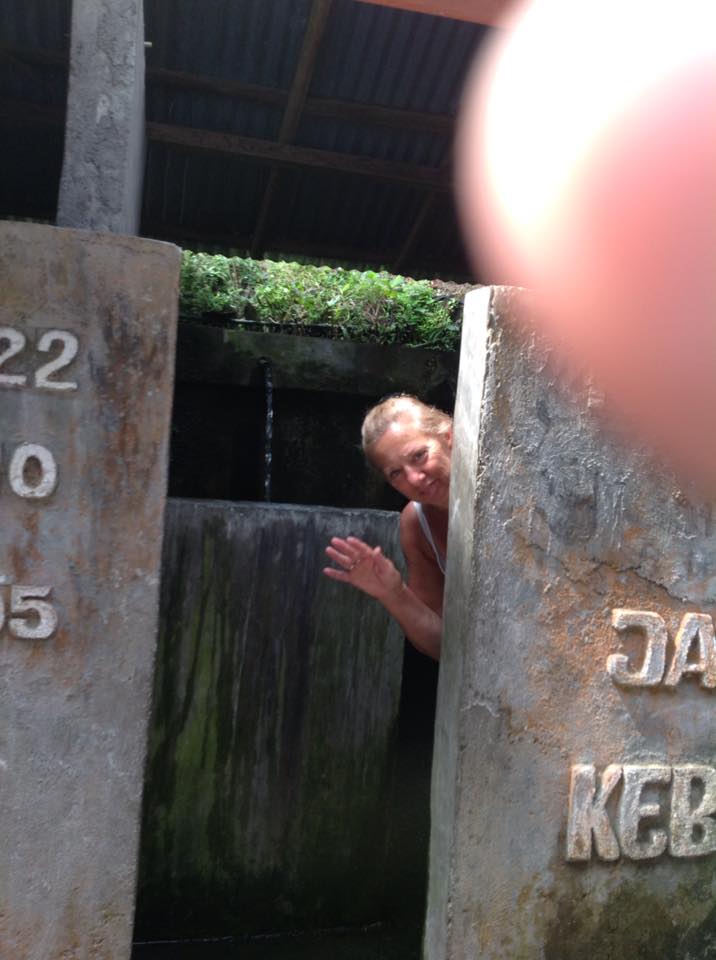 At the temple in Suwug Village, we were met by Ratna's Priest. There was Ratna's family and myself. Ratna told me the ceremony would take about 30 minutes and was the same traditional ceremony that their family often attended however, that day, the Priest would be asking for extra healing for me. Cleaning, Blessings and Healing.
Water was blessed, again we drank the 3 mouthfuls and then the rest was poured over our heads and rice was placed on our foreheads.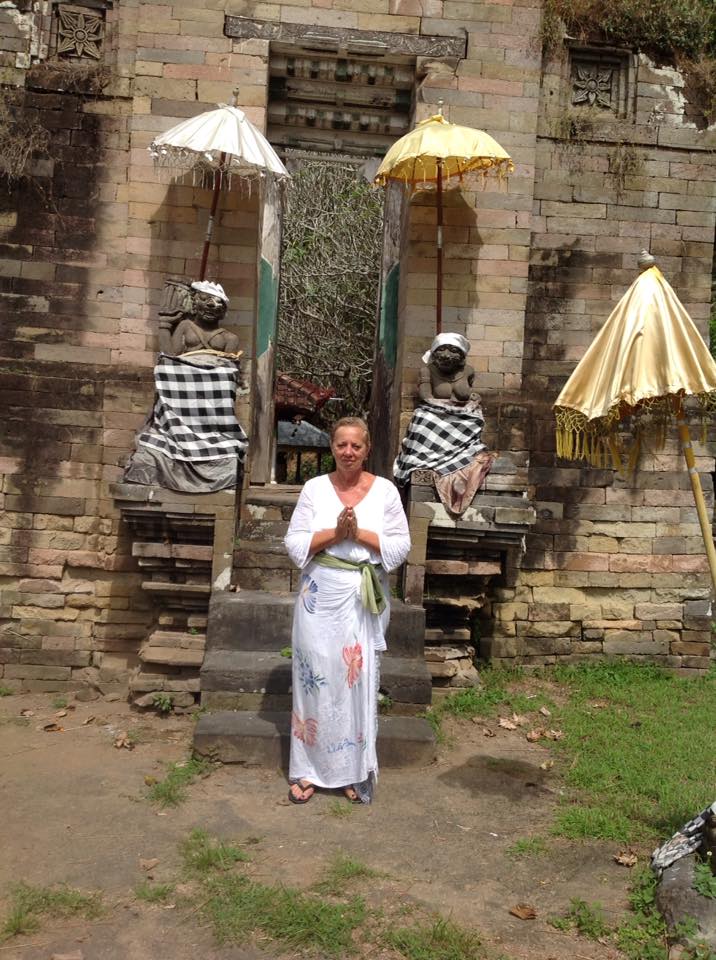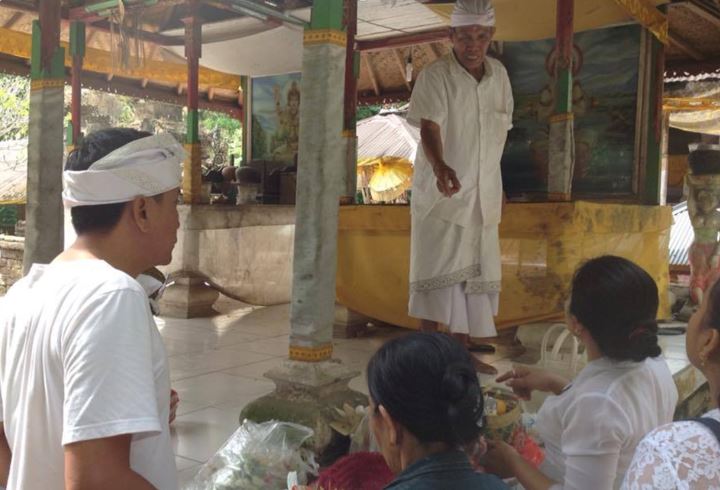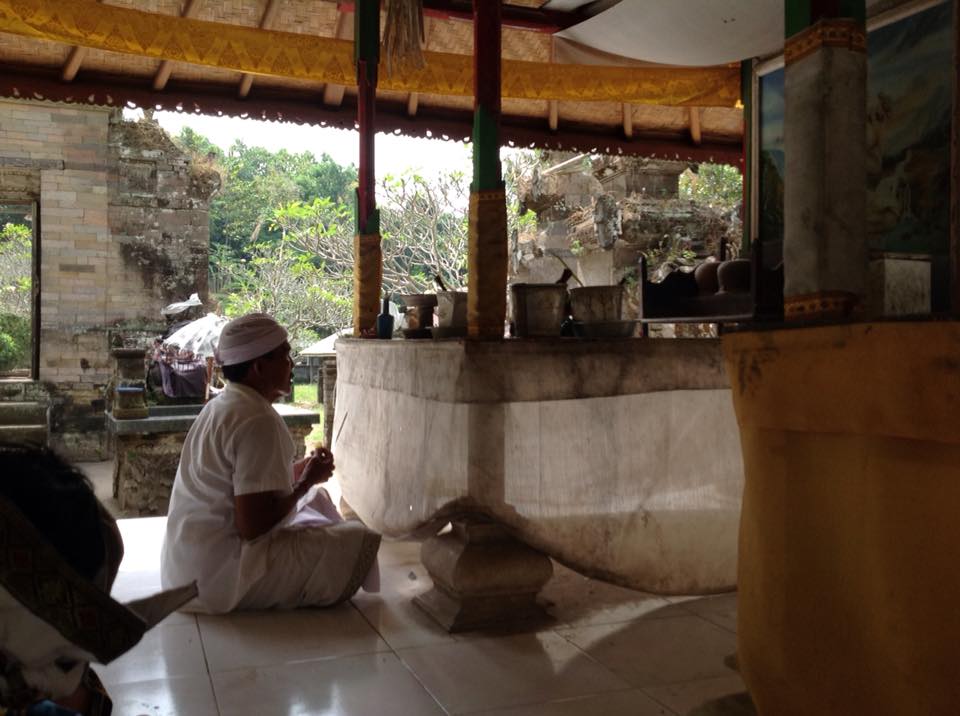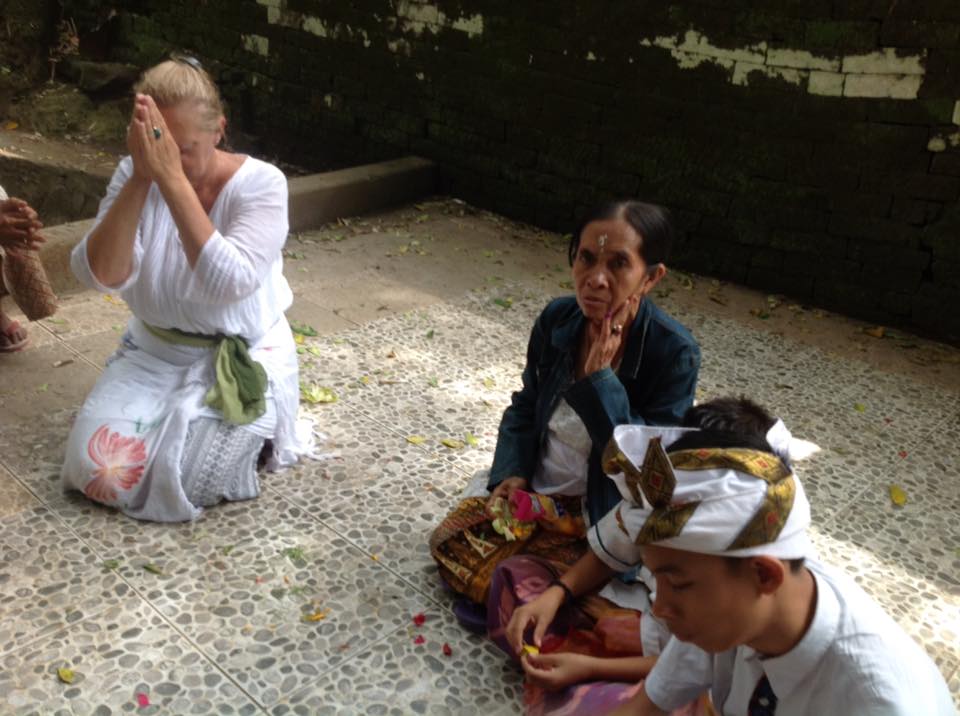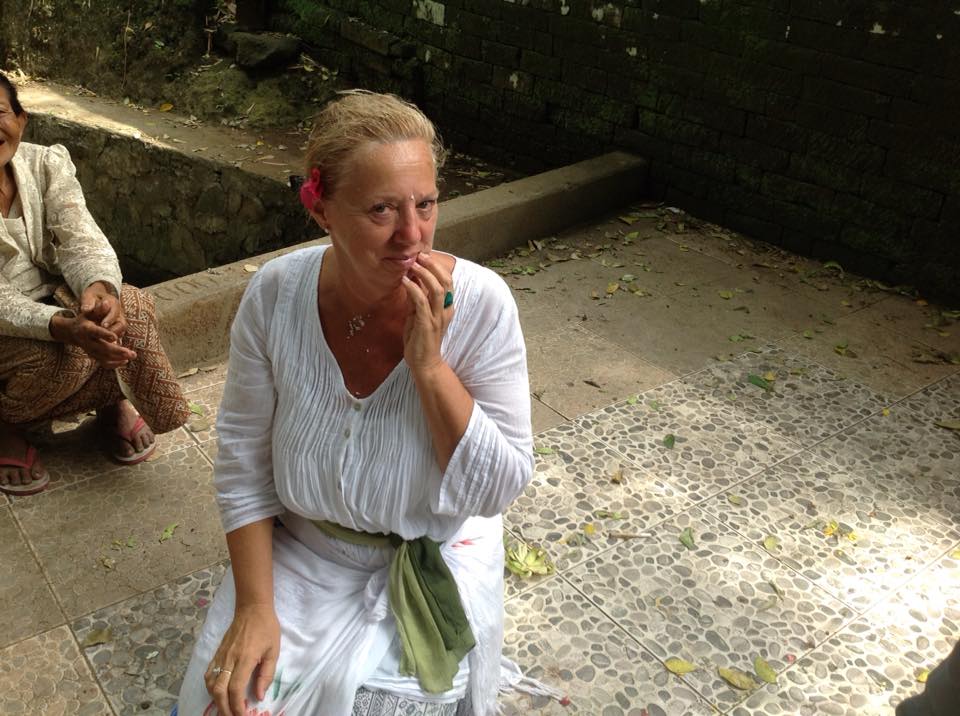 After the ceremony, Ratna, her Mum and I walked around the large temple placing offerings at numerous statues. (see photos).
No one spoke. This was serious. This was real.
I felt Blessed.
I prayed to my own God, Teams and Angels to help me get through this incredible sadness that I had followed me like a black cloud and had continued to build for the past two years.
I felt Loved.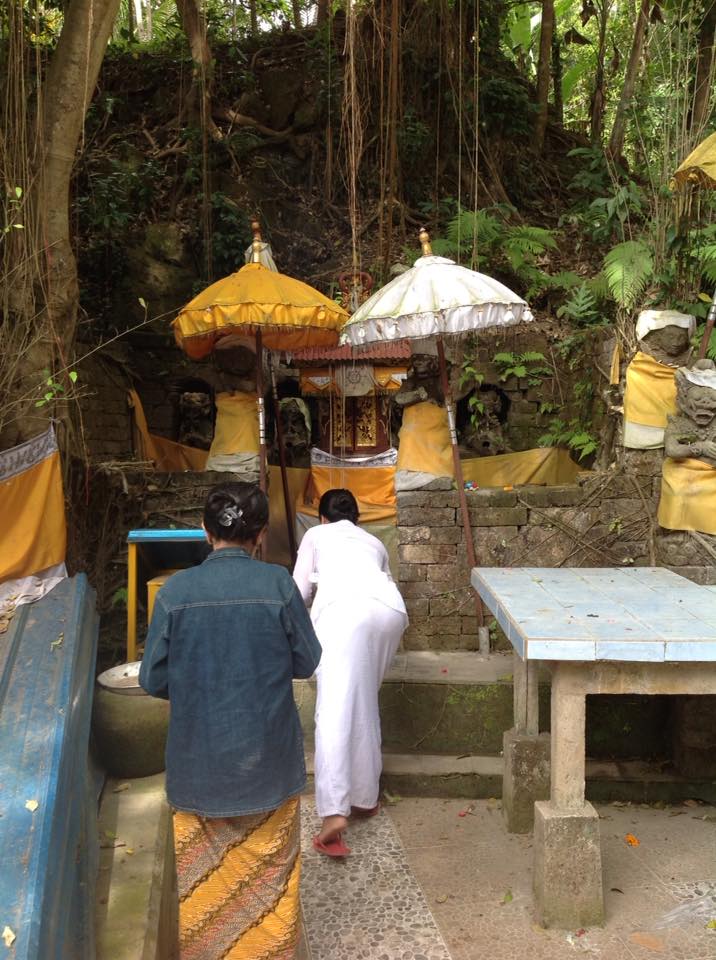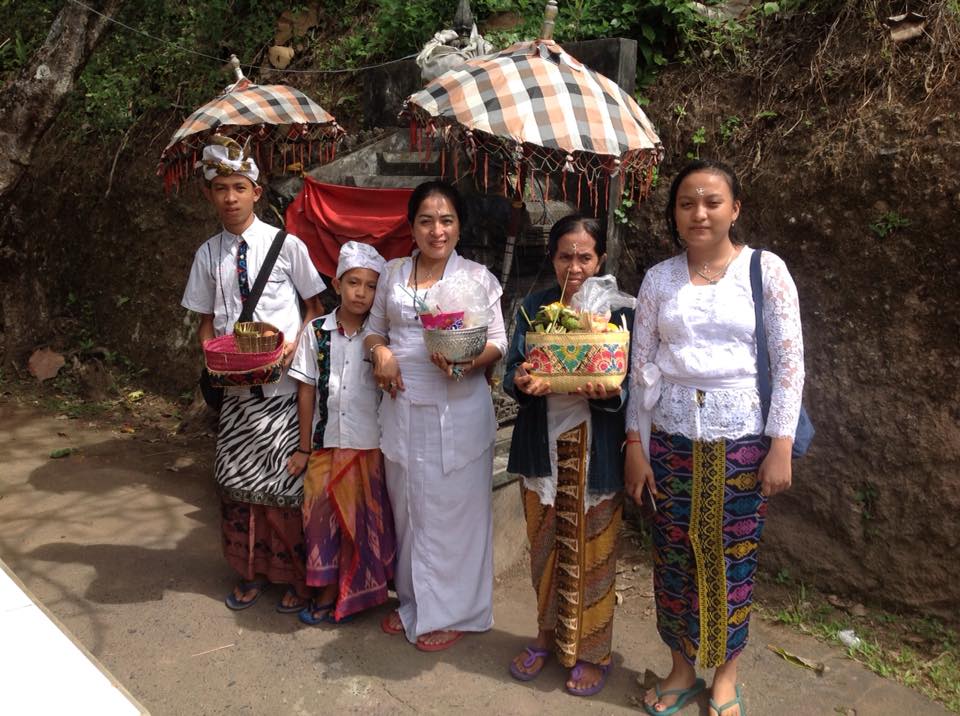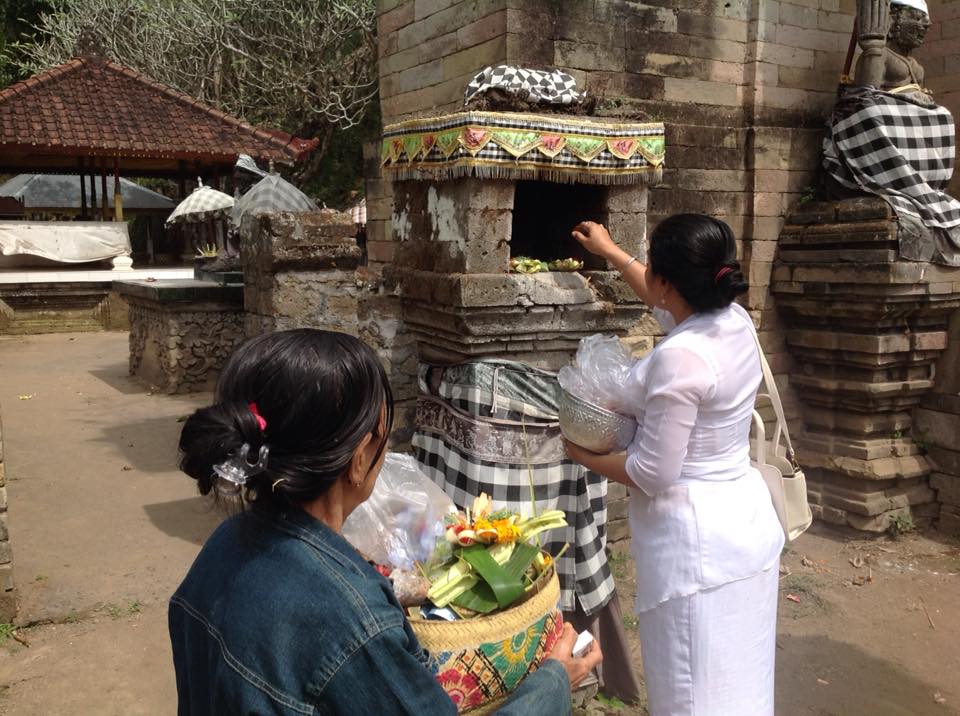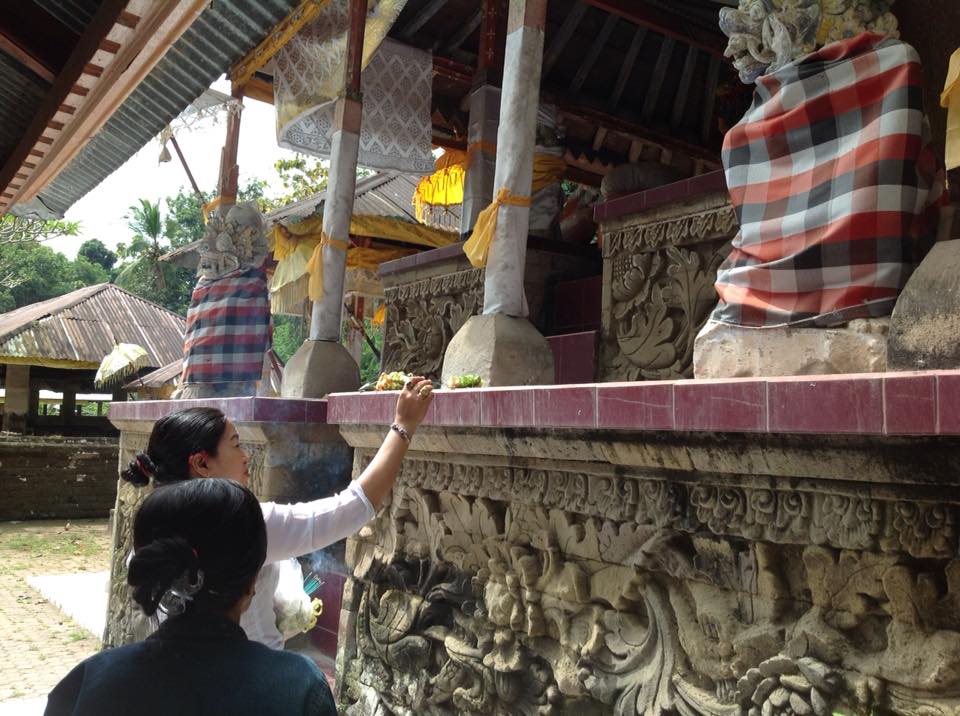 Once all the offerings had been placed and prayers said we followed the Priest down to the water temple by the creek. Here there was a natural spring that the Balinese considered to be Blessed.
One by one the Priest blessed us under the creek praying to the Balinese Gods. (see photos)
I felt Blessed.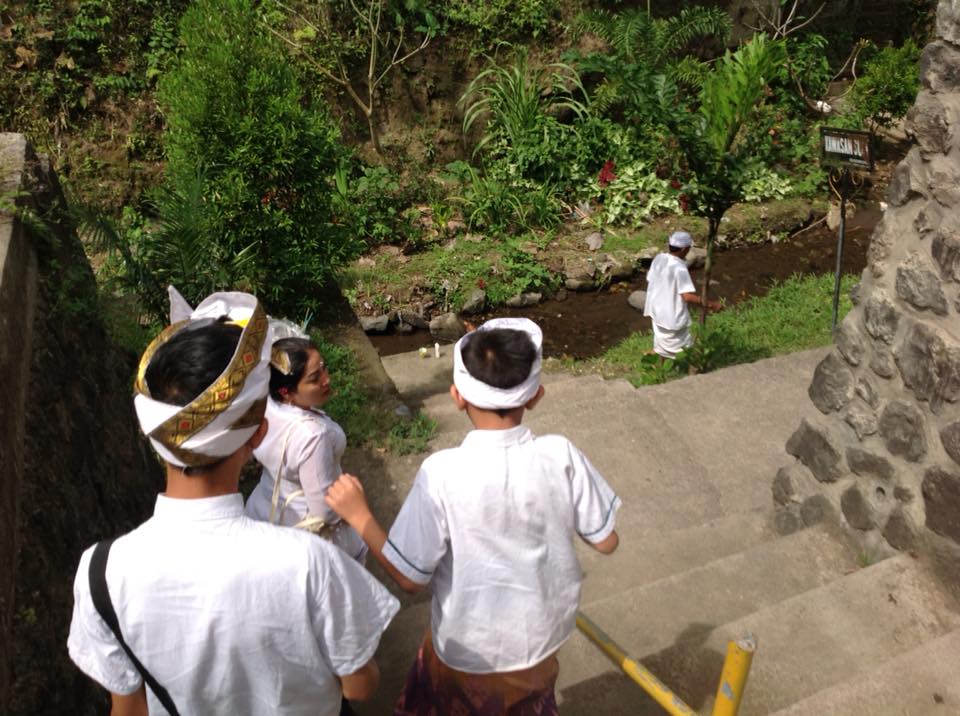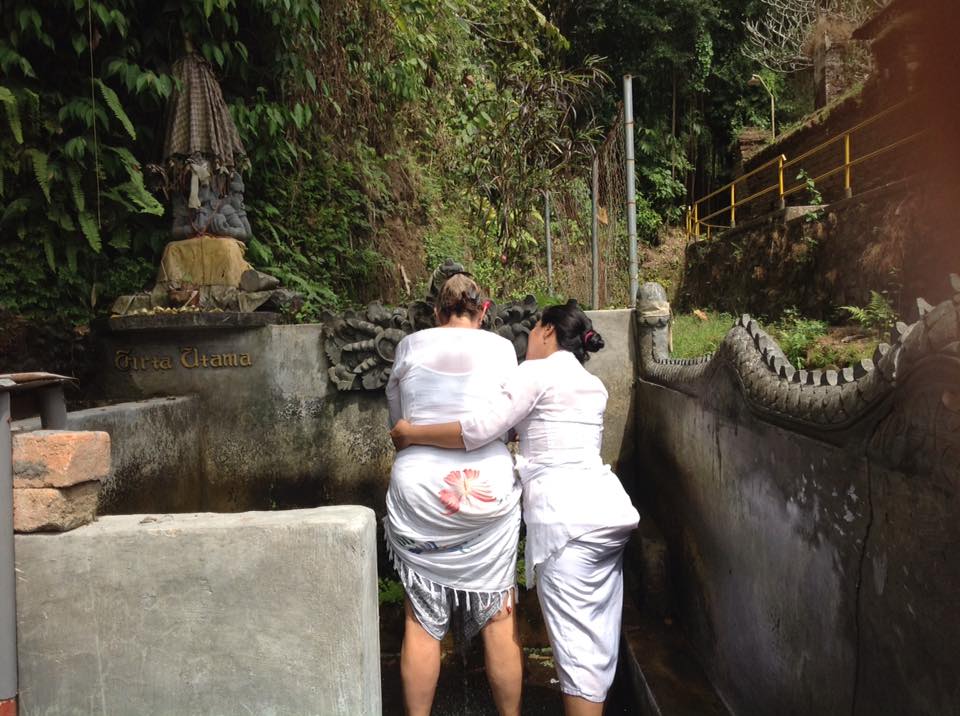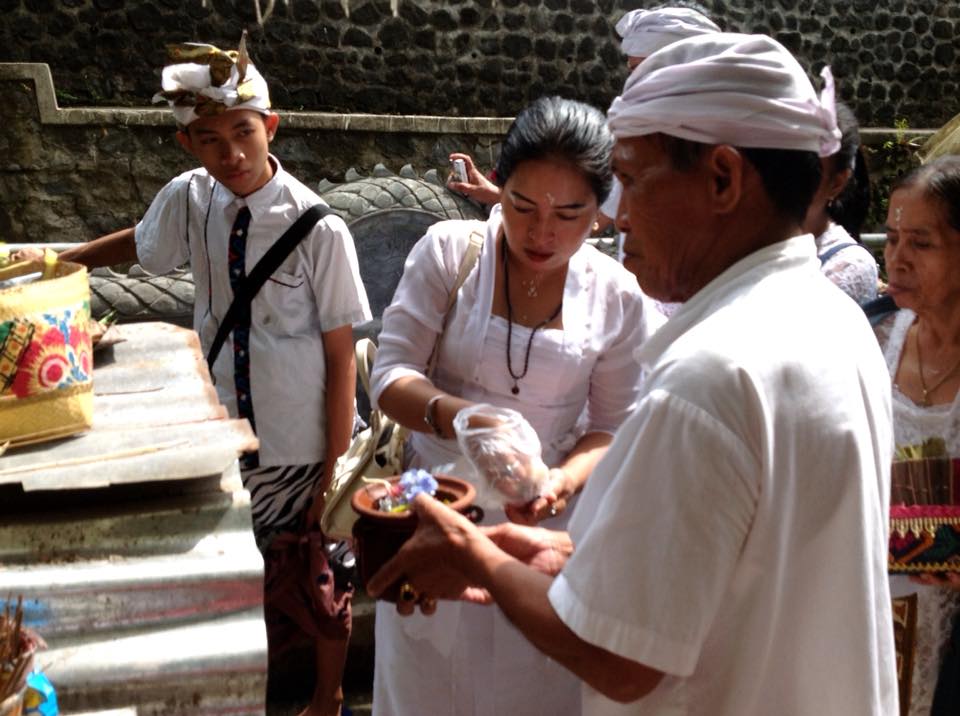 I continued to Pray.
I felt Loved
I felt Special.
I took some time to be by myself and reflect on the day so far.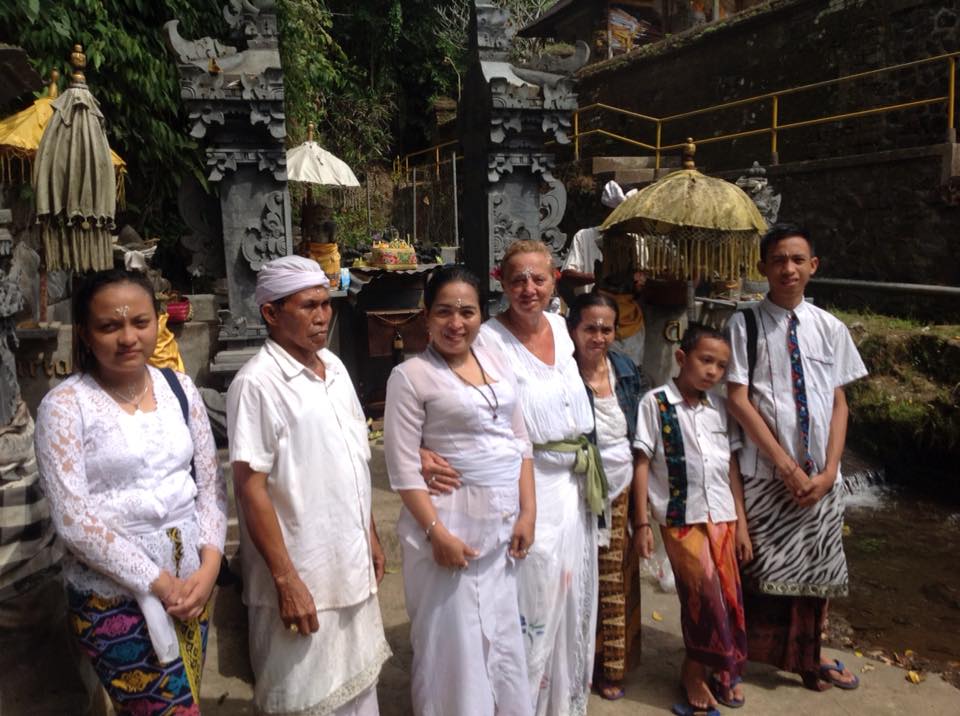 Ratna told me that she had never seen a Westerner like me involved in any Traditional Balinese Ceremony at any of the private Family or Village Temples. She told me that she had been receiving messages from her "Lord" that I would "Be ok and get through this and be a better person for all my experiences."
I was incredibly grateful for her messages and her gift.
Ratna and I spent a lot of time just holding hands and looking into each other's eyes experiencing Unconditional Universal Love. There were no words adequate enough to describe our feelings.
After the ceremony, we tottered up the hill in the heat to the local shanty shop and enjoyed some local produce.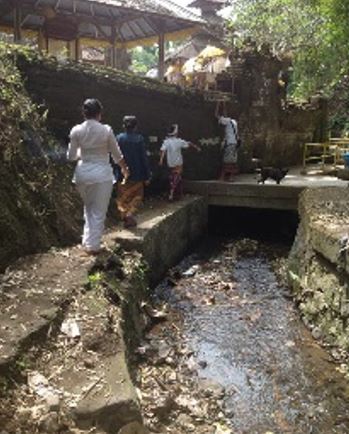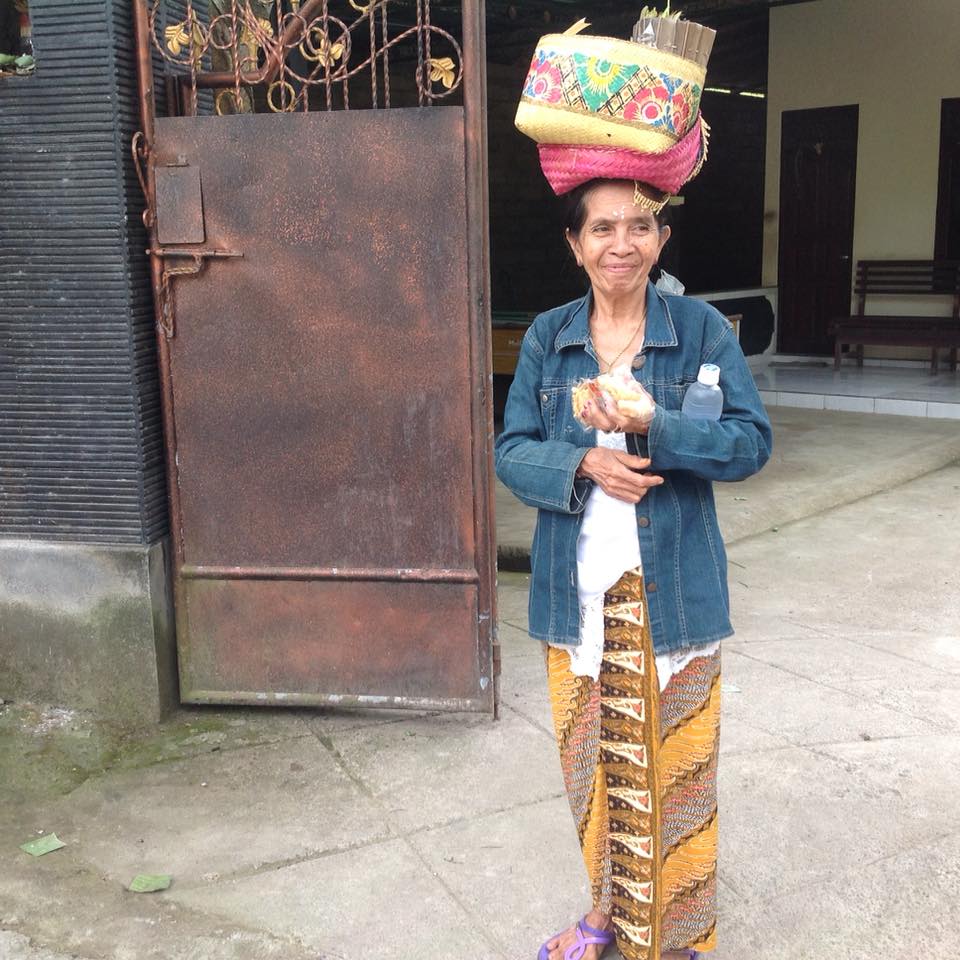 As it was lunch time, I suggested that I treat the family to Traditional Babi Guling (Suckling Pig) for lunch in their village. If you have never had Traditional Babi Guling in Bali, may I recommend that you head to a local Warung, one that is frequented by locals (not one that isn't) because they obviously have the best. For $1.50 you will enjoy a 3 course meal of Soup, Babi Guling and rice and Black rice pudding for dessert and a drink! (see photo).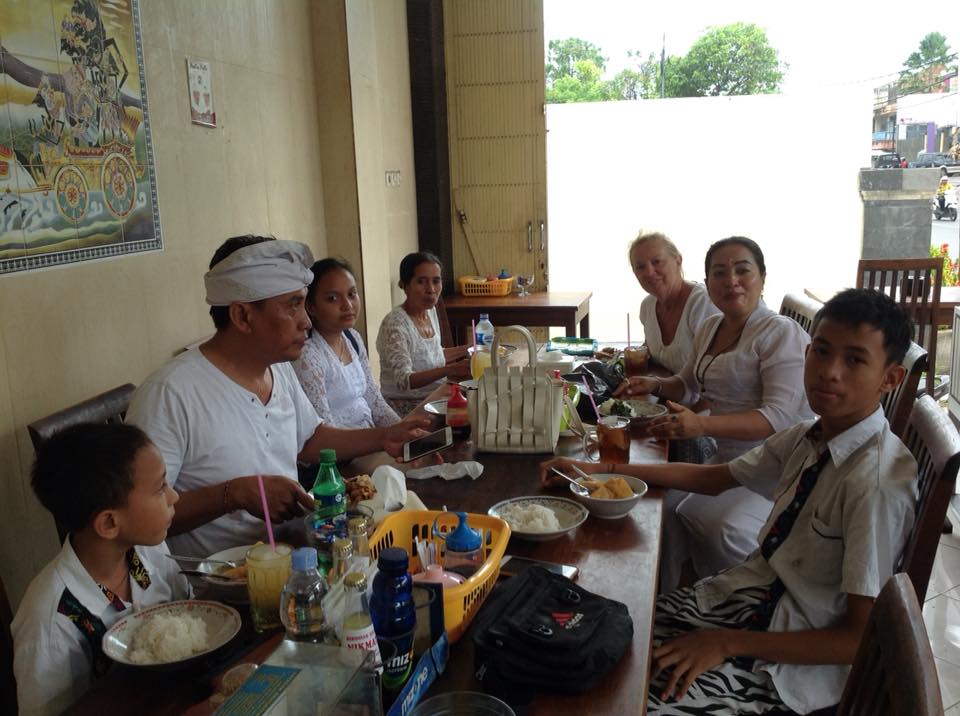 After lunch, we all piled into the car again stopping only for Ratna to purchase some flowers and offerings for the temples we would be visiting that afternoon.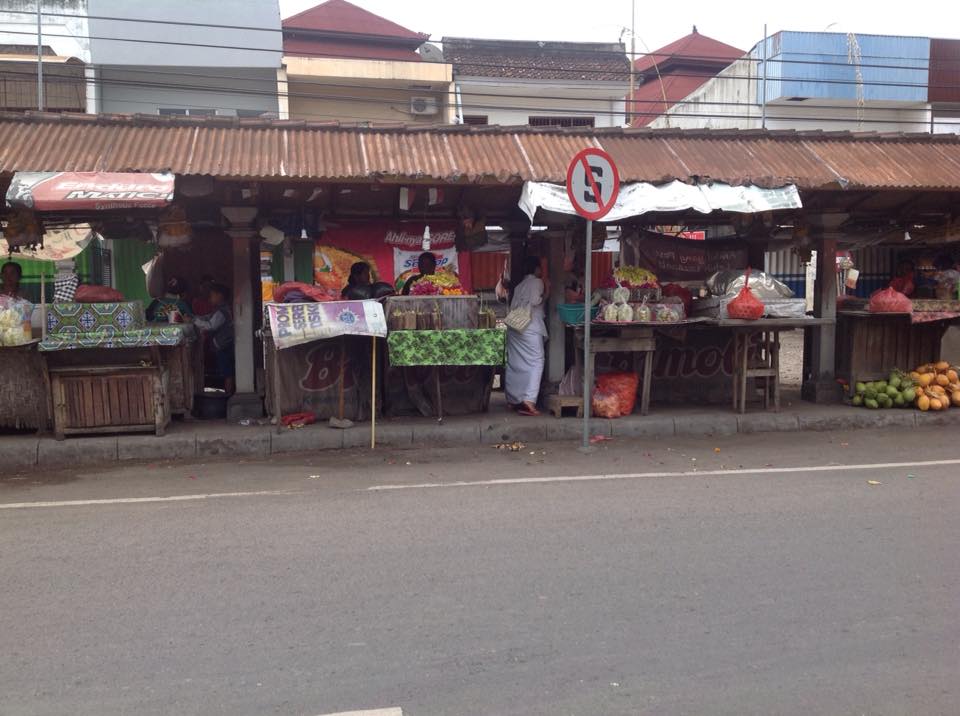 We then drove to a village named "Pemuteran" where Ratna dances the traditional Barung Dance and helps Priests with ceremonies as a Priestess. Ratna is a popular and respected member of her Community and her Gift is recognized and accepted by all. (see photos). It was at this very special location that her Priest and his family also lived. I was warmly welcomed by all.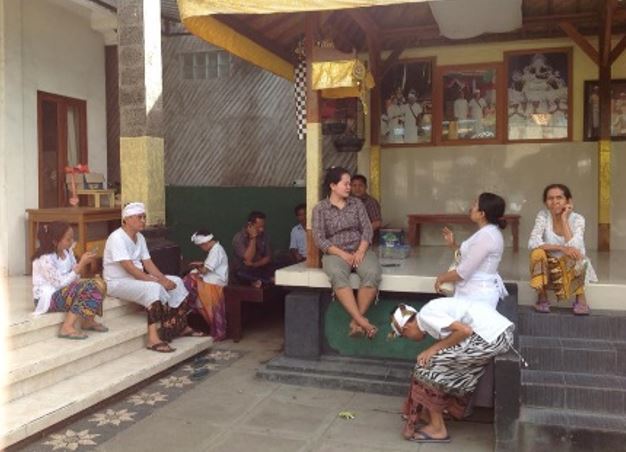 Ratna showed me around the small but very beautiful Temple complex. We spent time praying together at each (see photos).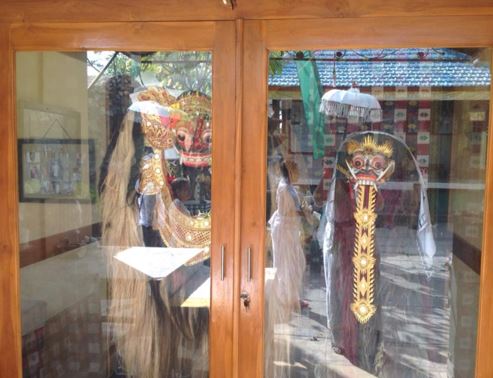 It was during this visit that Ratna opened up to me about the various hardships and losses she had experienced during her life. She too, had experienced great sadness and one day whilst praying, she believes she was visited by "the Lord." Ratna received messages that she too was "Blessed and was to help others." She felt that she'd had a "calling." Much like me. I describe my gift as a "calling" too.
We cried many times together that afternoon and forever connected by our Tears of Love.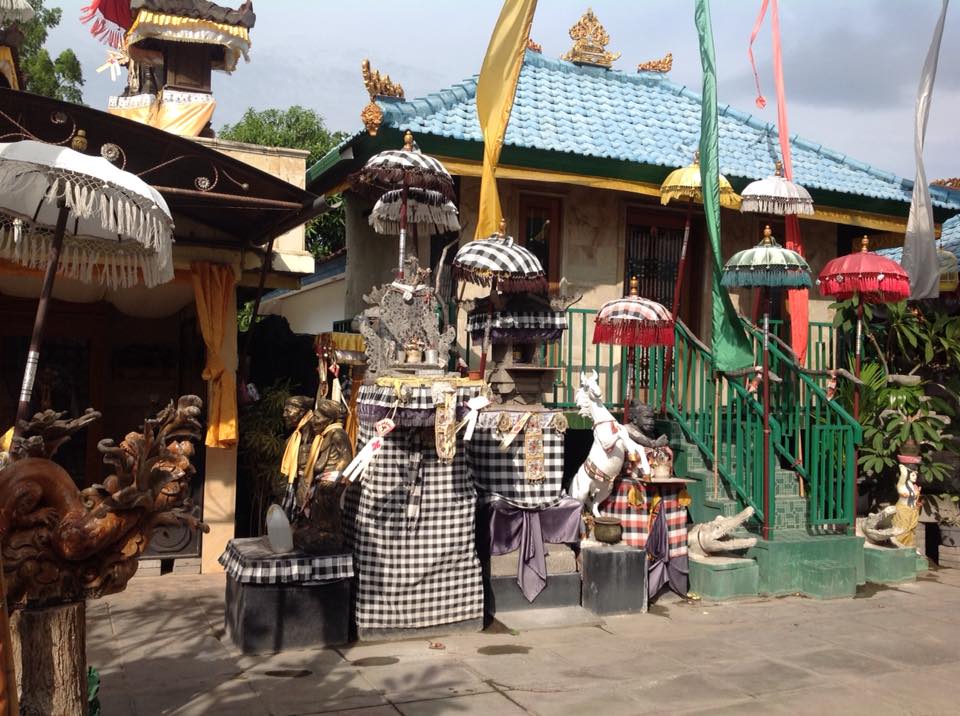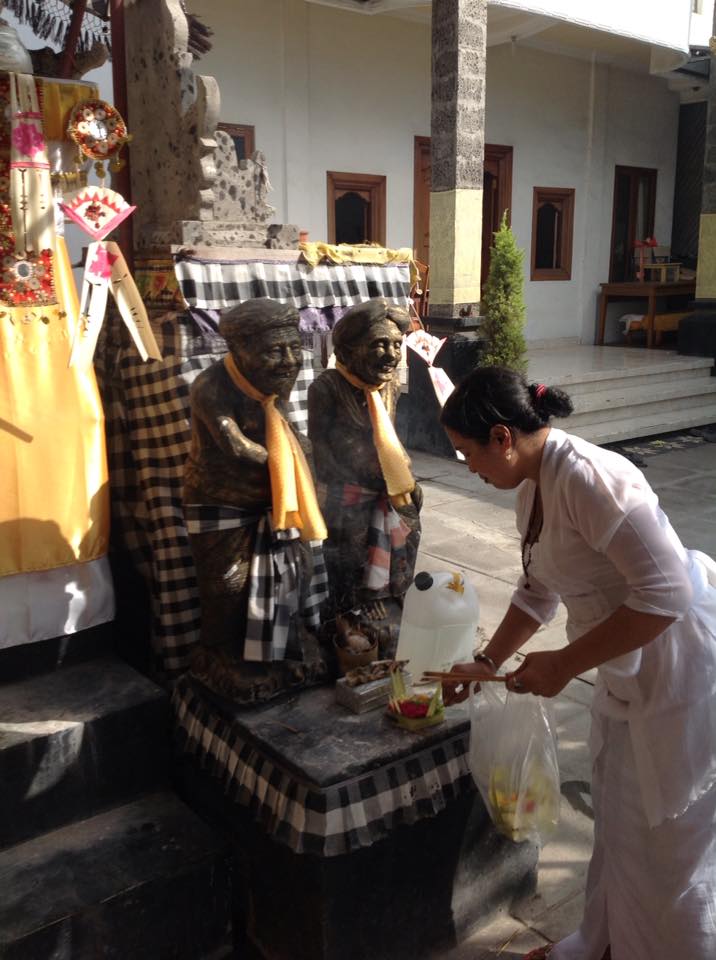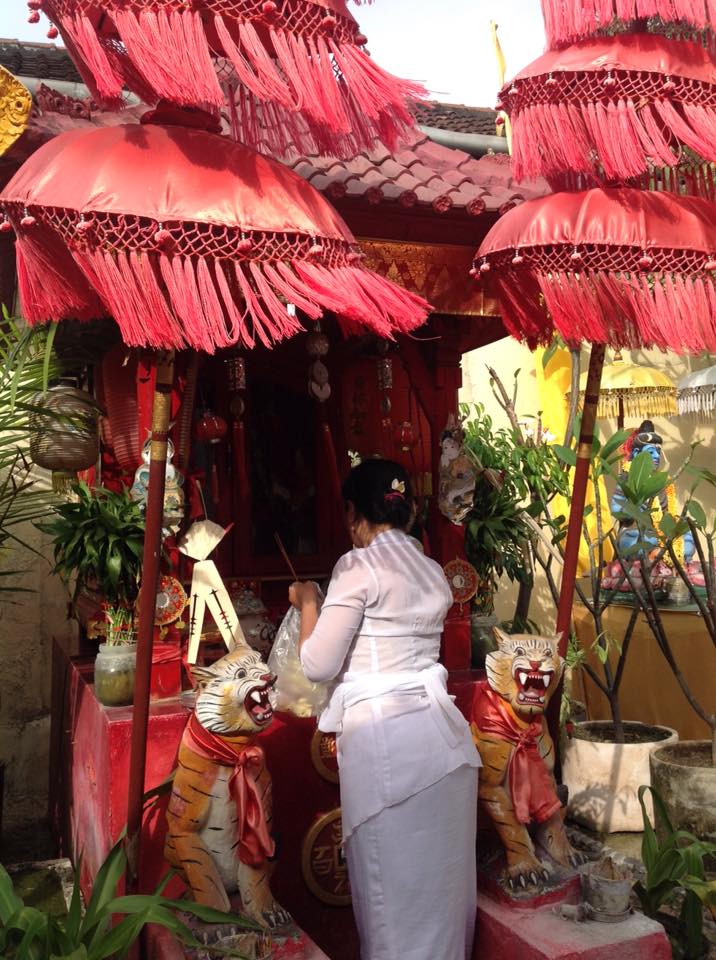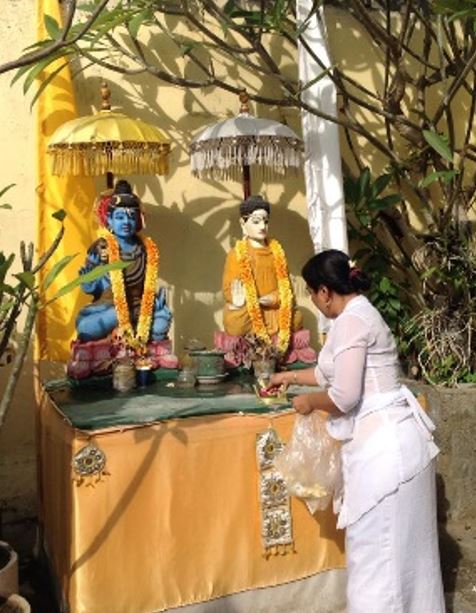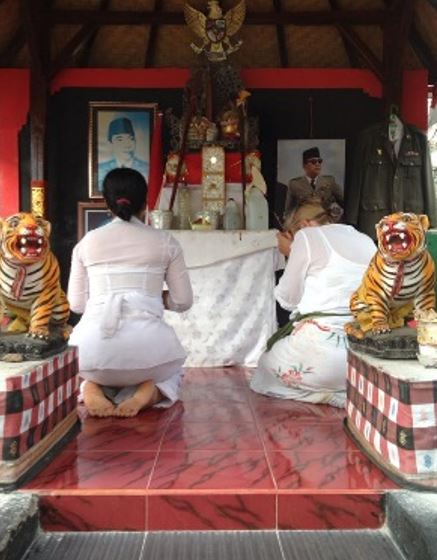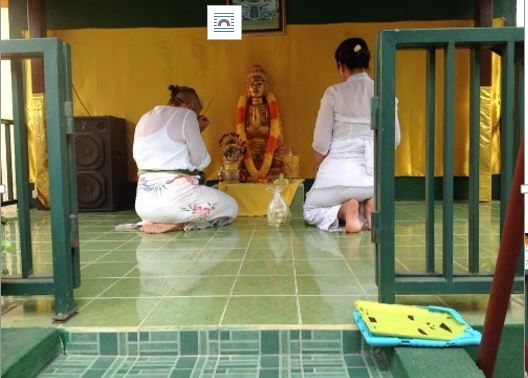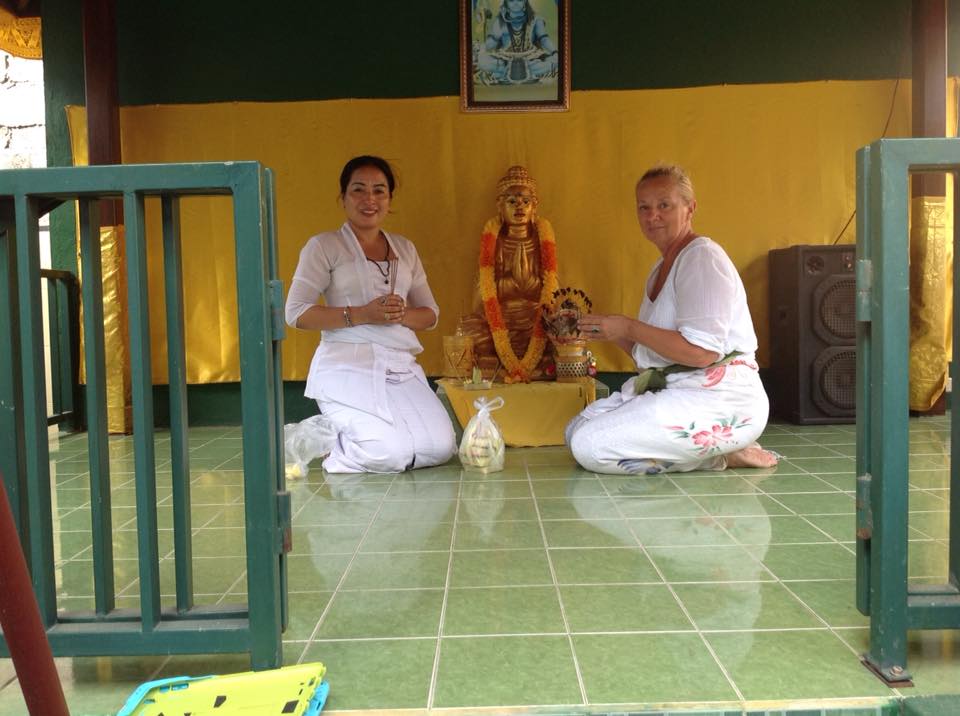 When it was time for the Ceremony, (the third that day) we all went into the small and very beautiful temple.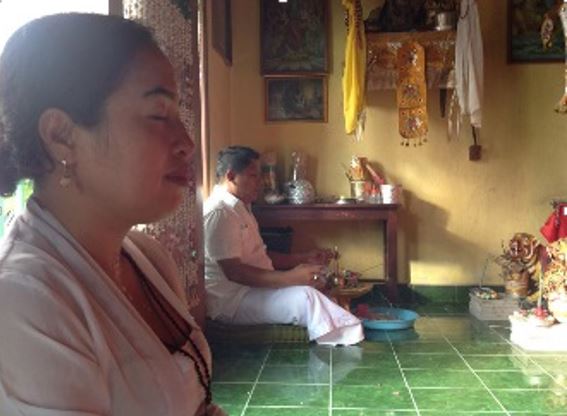 Words simply cannot describe my emotions and feelings of that day. I had stepped out of my world and into theirs. I had surrendered completely. I felt pure Soul that day. My body was merely carrying it around from Temple to Temple.
I felt Blessed.
I continued to Pray.
I felt Loved.
Magic was happening. I was starting to feel a shift.
They were all there for me.
They all prayed for me.
They didn't judge me when I cried.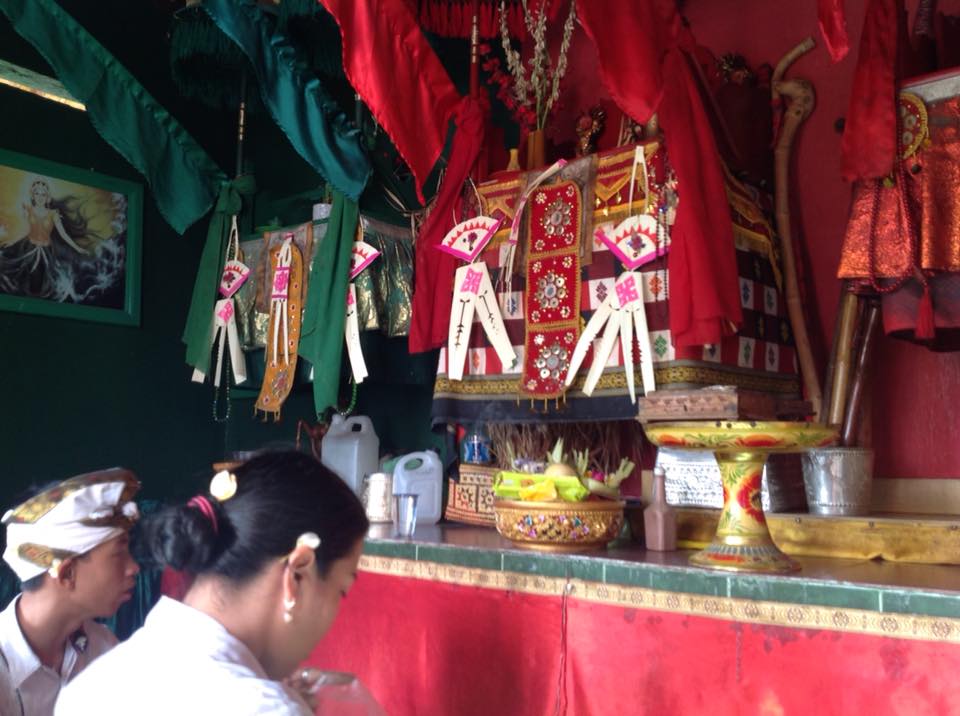 This ceremony was intense. The whole family (even the kids) took it seriously. I loved that about this family and indeed the Balinese culture. Spirituality IS taken seriously and is a part of every day life. Ratna and her family are Hindu. Every house has at least one temple inside and one outside.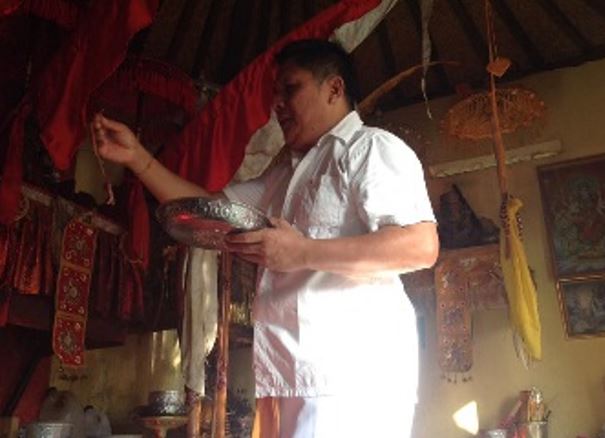 Another thing the Balinese practice, well, actually, they live it, is the Law of Attraction and Manifesting. They believe that what they pray for they will receive. One thing they do not pray for is anything to do with money or financial gain as they believe that is of the ego! Rarely if ever do you find an egocentric Balinese person.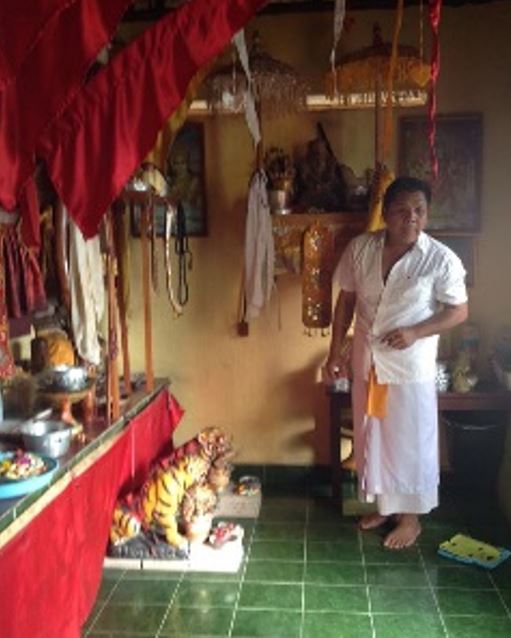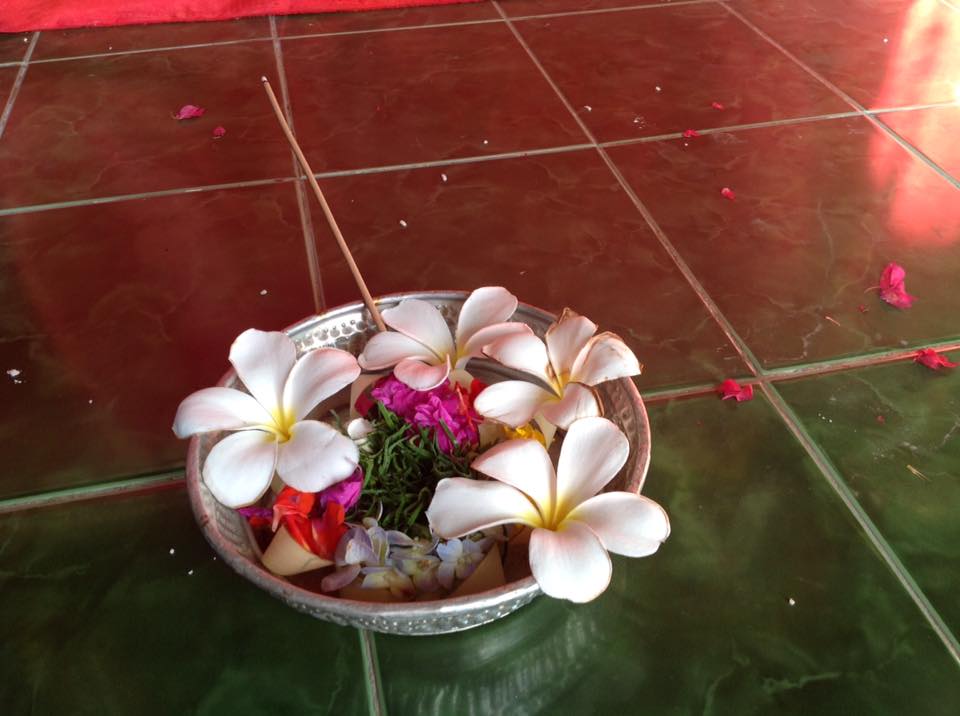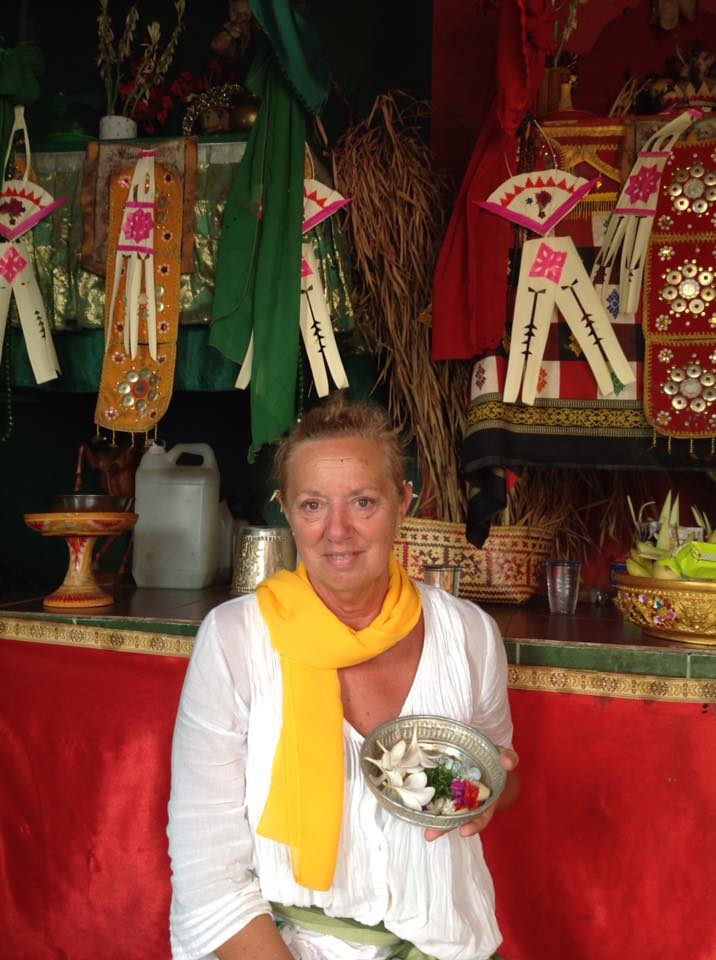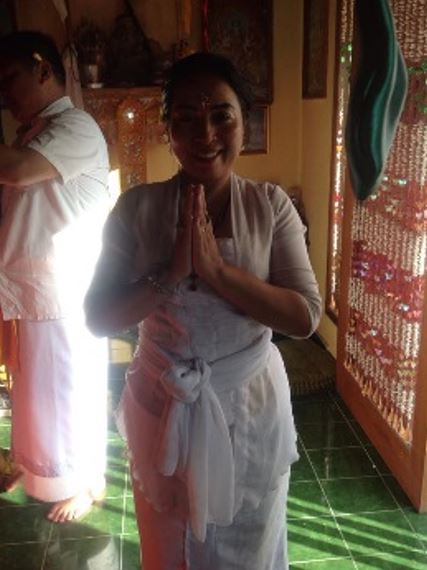 I wish we could make Spirituality a part of every day and our lifestyle. I certainly try to.
After the ceremony, we were all anointed with rice again and the Priest presented me with a "Selendang kuning" (yellow ceremonial scarf) and asked me to wear it whenever I was doing my very special work.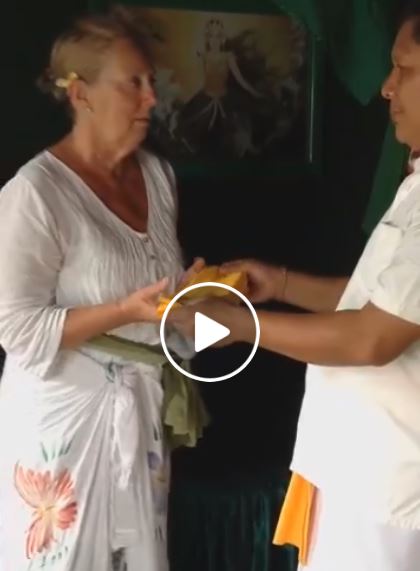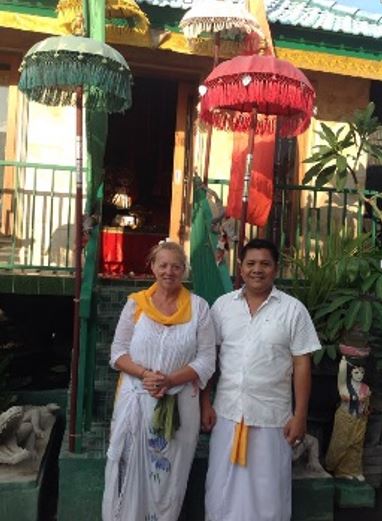 Ratna said that she could not believe that I had been presented with one of these as no Westerner ever had. She believed it was in recognition and acknolwedgement of my own special Gift, of which she had not spoken to the Priest about but he had sensed it. (see photos)
The Priest also invited me to weave a traditional "Earth, Wind and Fire" (blue, red and white) bracelet with him, which he then knotted on my wrist. I was told it would stay there until a full healing had taken place. (That bracelet fell off just recently on the 2 March 2019, 9 months after it was placed on my wrist in one of the most emotionally charged times of my life).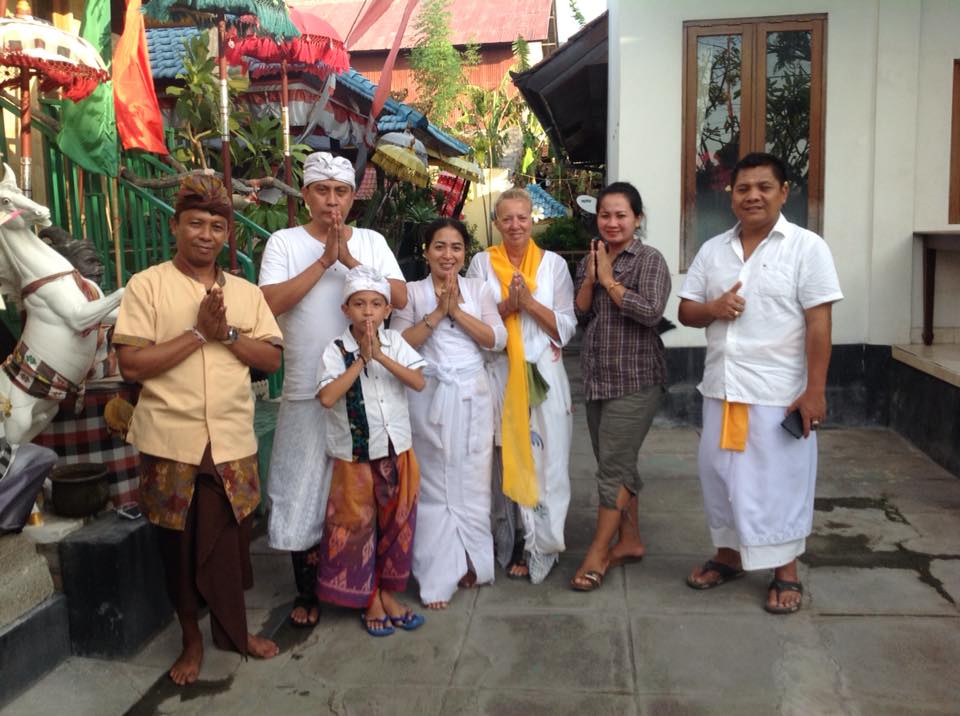 The water that is blessed during a ceremony is always given to those present, normally, 3 sips at a time. However, today, the Priest asked me to have 11. Ratna said she was really surprised because 11 sips was normally reserved for Priests and Holy People. After sipping the 11 sips, the remaining water was poured over my head and a final Blessing given.
I remember saying to myself "If this doesn't work to heal me, then I really don't know what will!"
I really had "Manifested this amazing situation when I had told my Team to take a break from me whilst we were in Bali and for a Traditional Balinese Healing Team to take their place!"
This was one of the most Amazing Spiritual experiences I had ever experienced in my life.
I felt Blessed.
I Prayed.
I felt Loved.
Now I felt Sacred.
After lots of hugs and photos, we all piled into the car with them asking me to come back and visit them again soon. I knew I would always be welcome there.
It was time to settle in for the long 100 kilometre drive to the Temple of the Sea. The kids and Grandma fell asleep in the back (see photo), Ratna and her husband chatted away in Balinese and I spent the time reflecting to myself.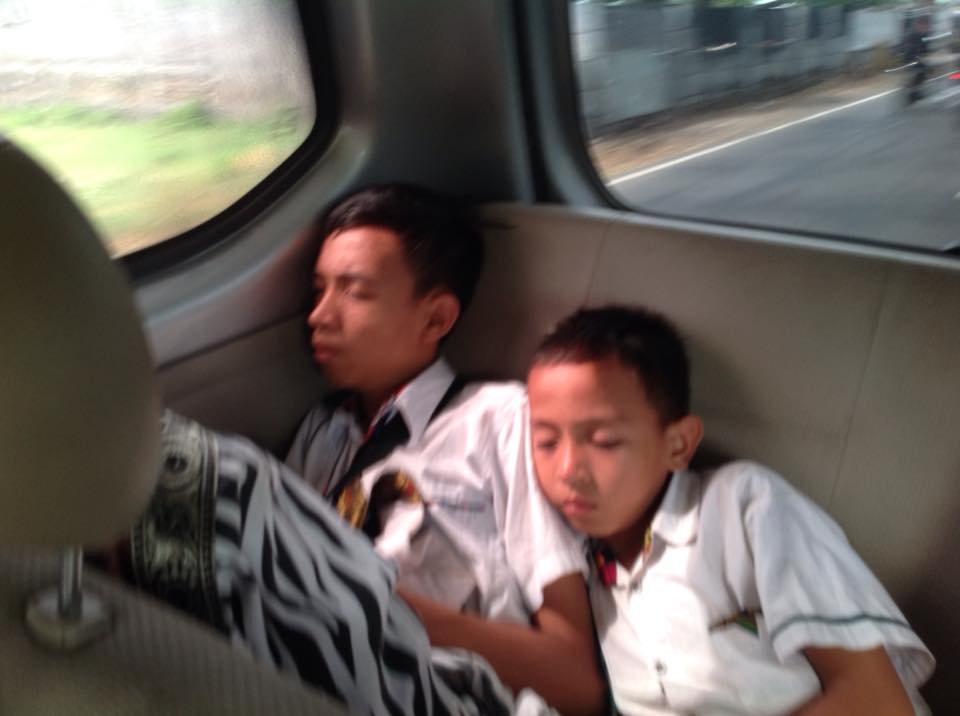 The best way that I can describe my feelings that day was one of "surrender and trust."
At the half way point, we stopped at "Pulaki Temple" a large roadside meeting place where there lots of little shanty shops where you could buy Bali coffee or cold drinks or peanuts to feed the extraordinary amount of monkeys (see photos).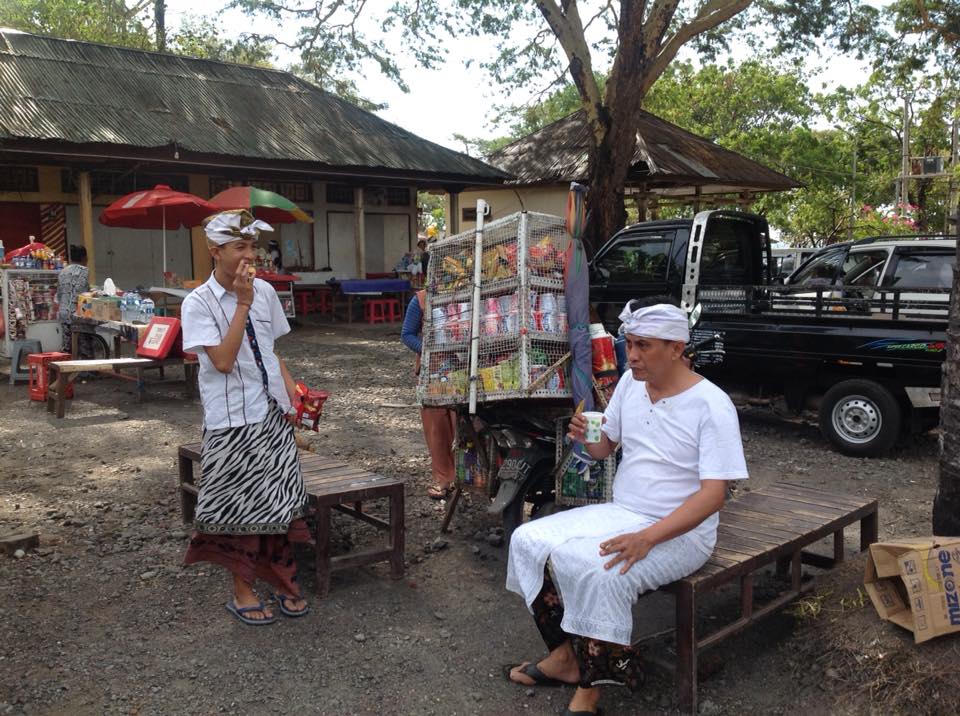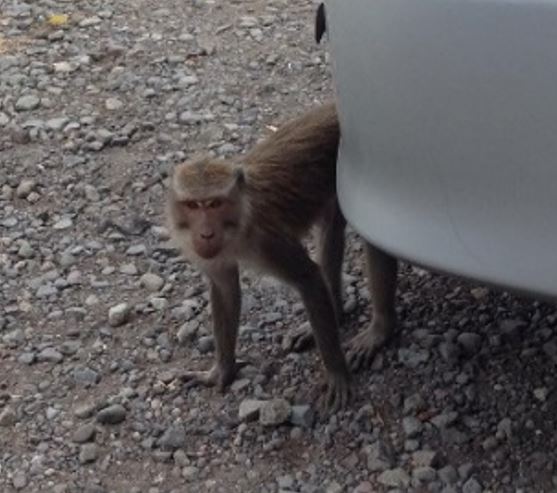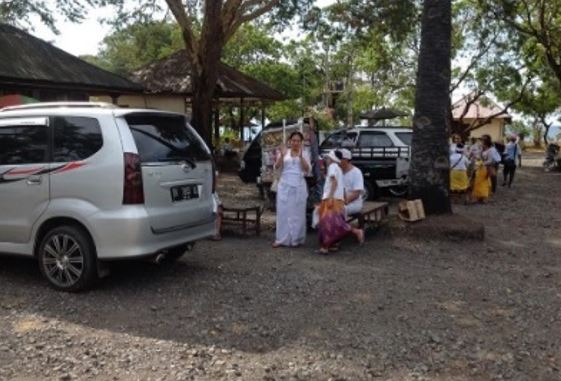 Ratna spoke really good English and we had fun crossing the language barriers. Me, continuing to learn my Indonesian and Ratna, her English.
It was just coming up to sunset when we arrived at "Segare Rupek Temple" also known as "Goddess of the Ocean Temple. It was a very special celebration day and the whole temple was decorated in the most beautiful green (see photos).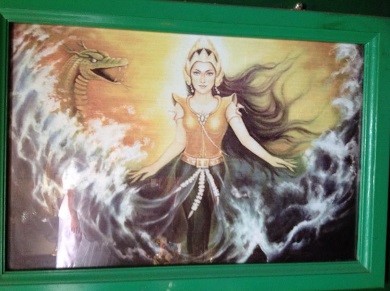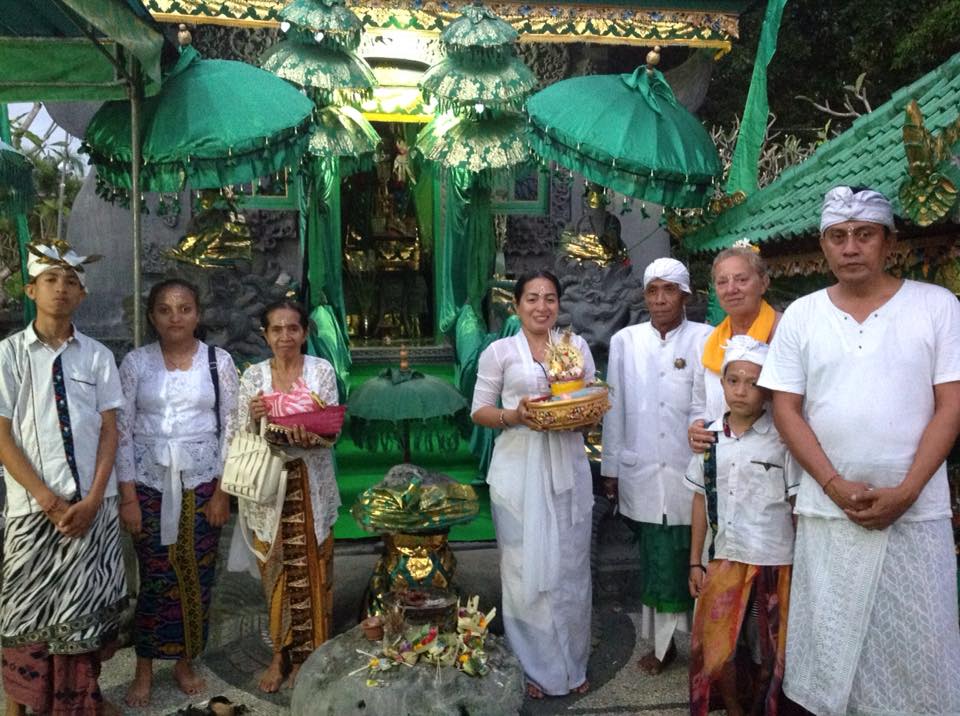 Ratna spoke with the Priest and he agreed to give us a ceremony.
We all sat on the ground and bowed our heads whilst the Priest prayed and sang to the Goddess of the Ocean. As I've said before in this story, I LOVE the ocean and am always near it or on it or at the very least looking at or driving past it! I need to see it every day and felt that it was very apt that this was our last temple today.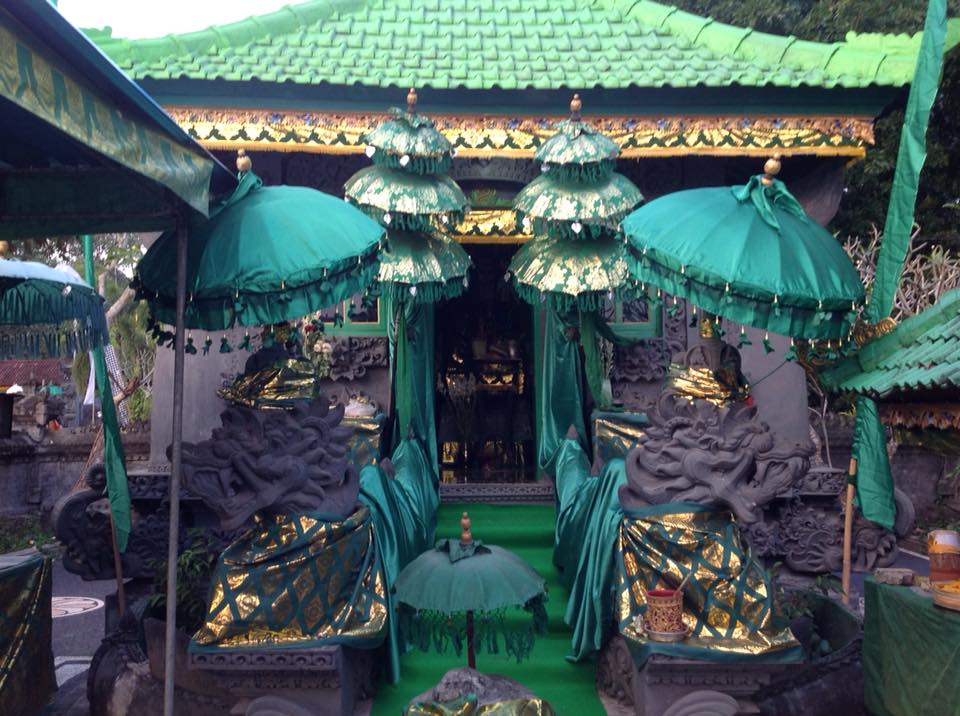 After the Priest was finished we were annointed with the rice and were invited to go inside the small temple and pray our own prayers. (I was pretty much exhausted from praying all day that day but left feeling invigorated and at peace).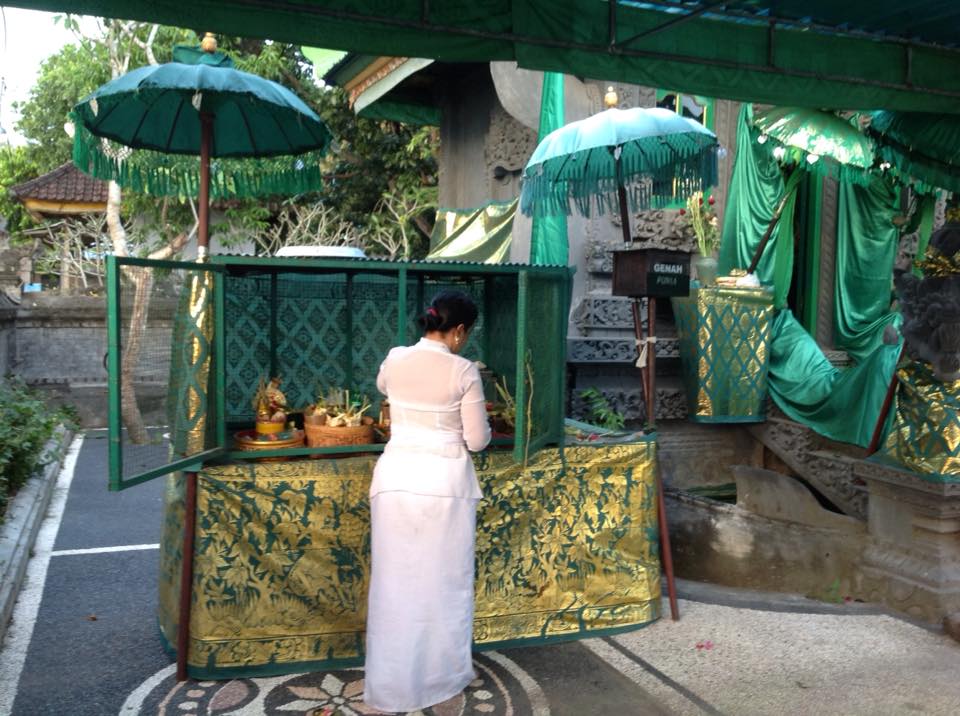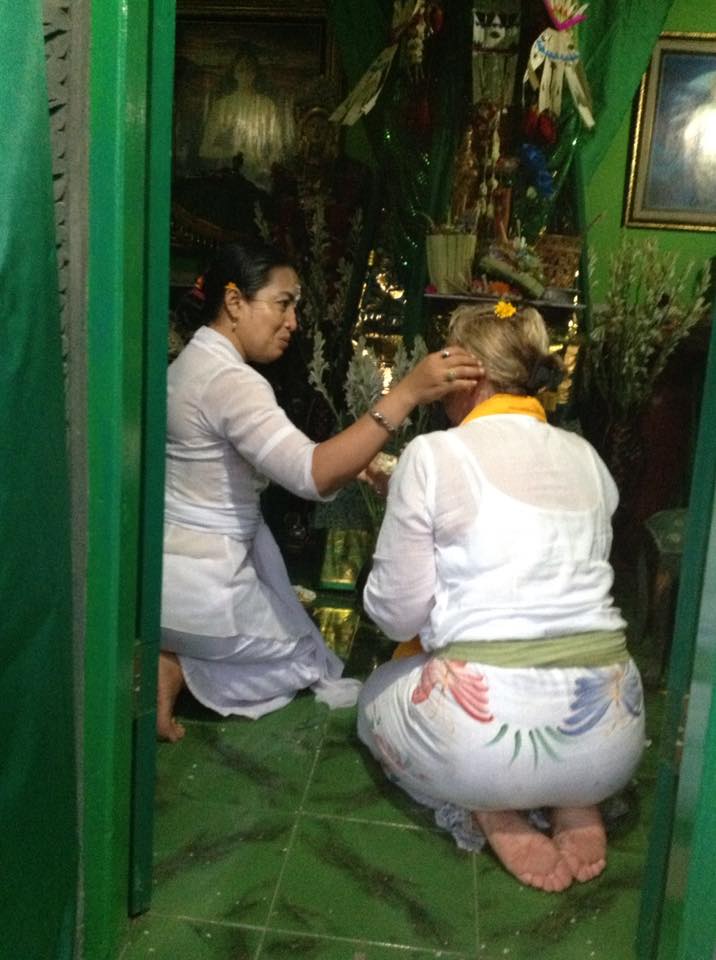 Afterwards, the Priest invited us through the "Gate between Earth and the Sea" where we all took it in turns on the steps and given the water to sip three times and have the remainder poured over us.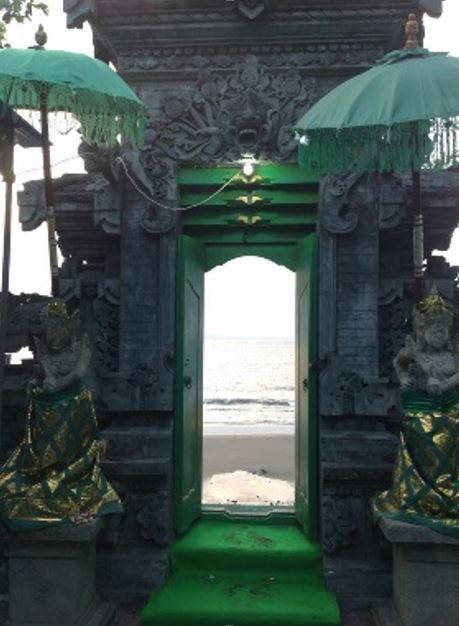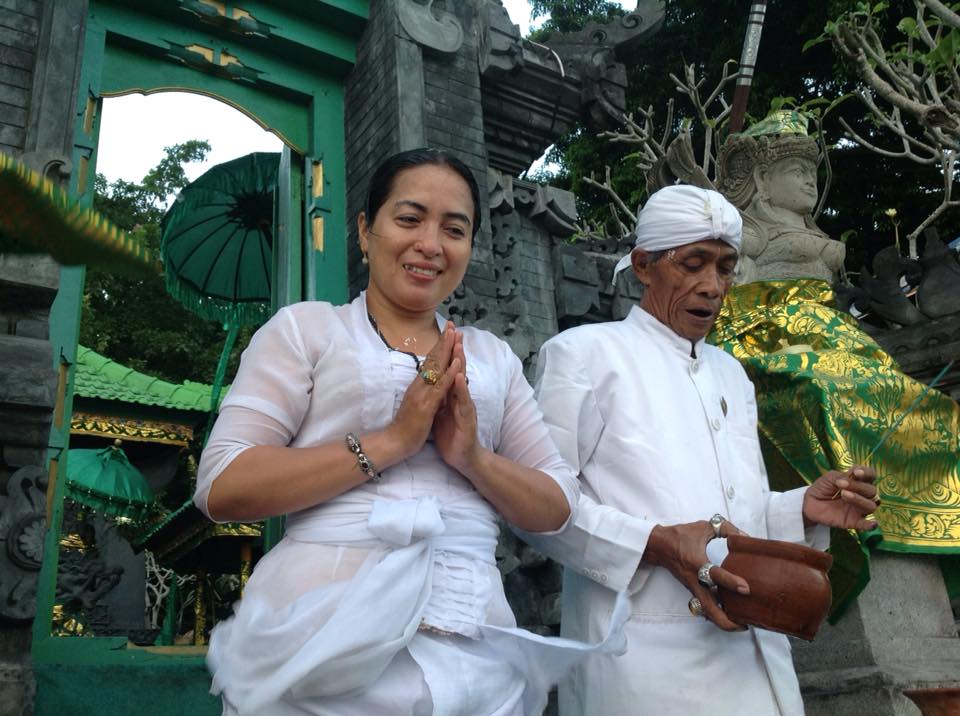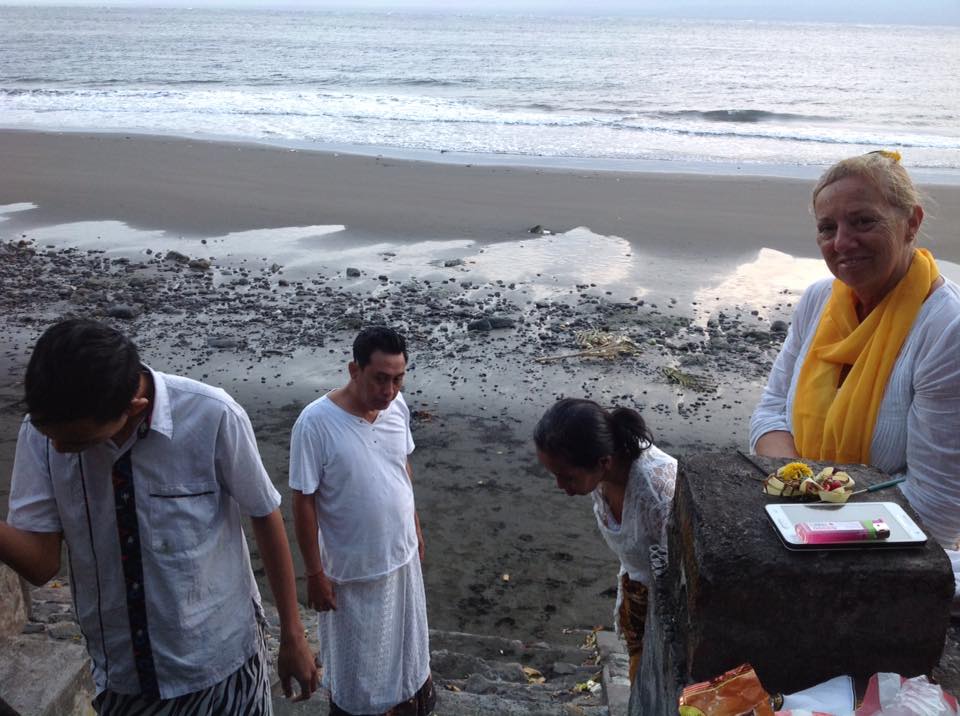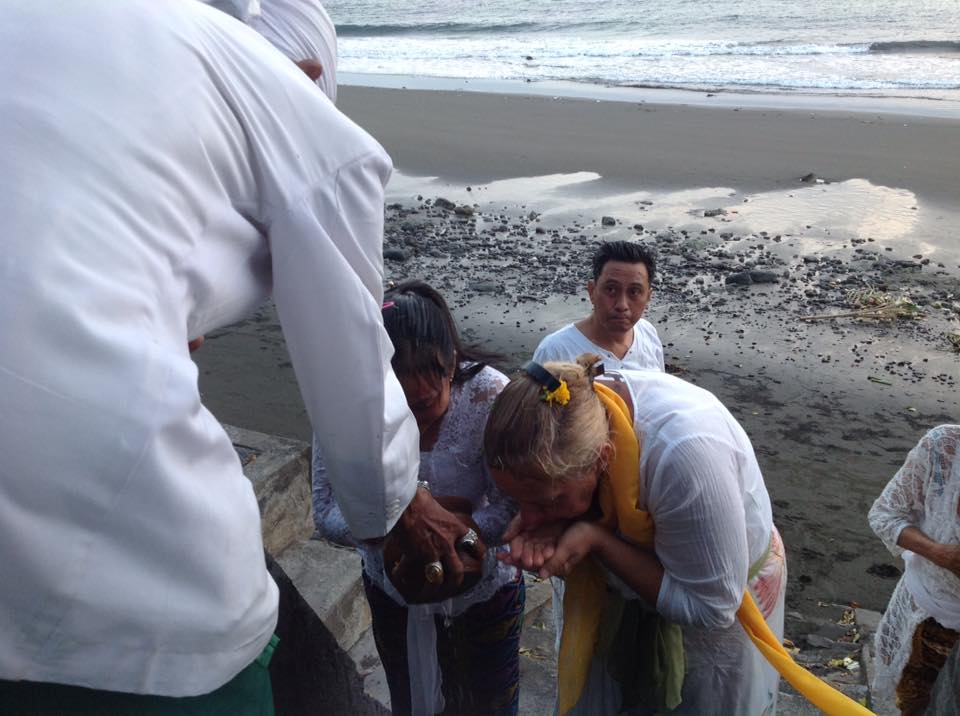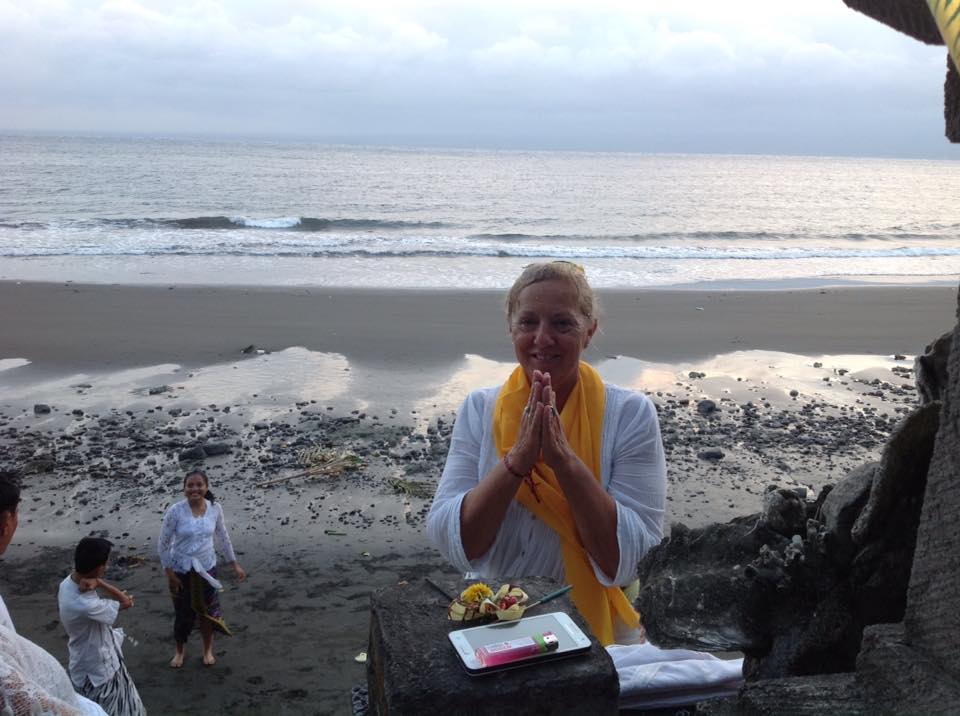 We thanked the Priests and walked back to the car. Suddenly we heard one of the Priests calling us back as the High Priest wanted us to come back. The Priests spoke with Ratna and told her that he had been given messages from the "Goddess of the Ocean" for me. Ratna told me that she thought this was absolutely incredible and she had never witnessed this before.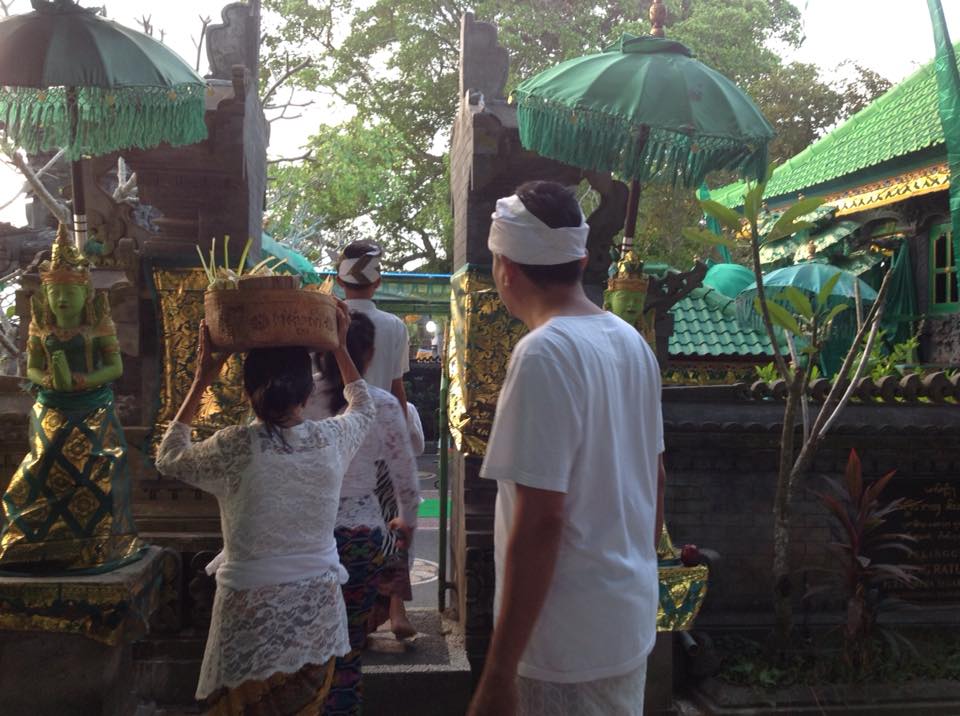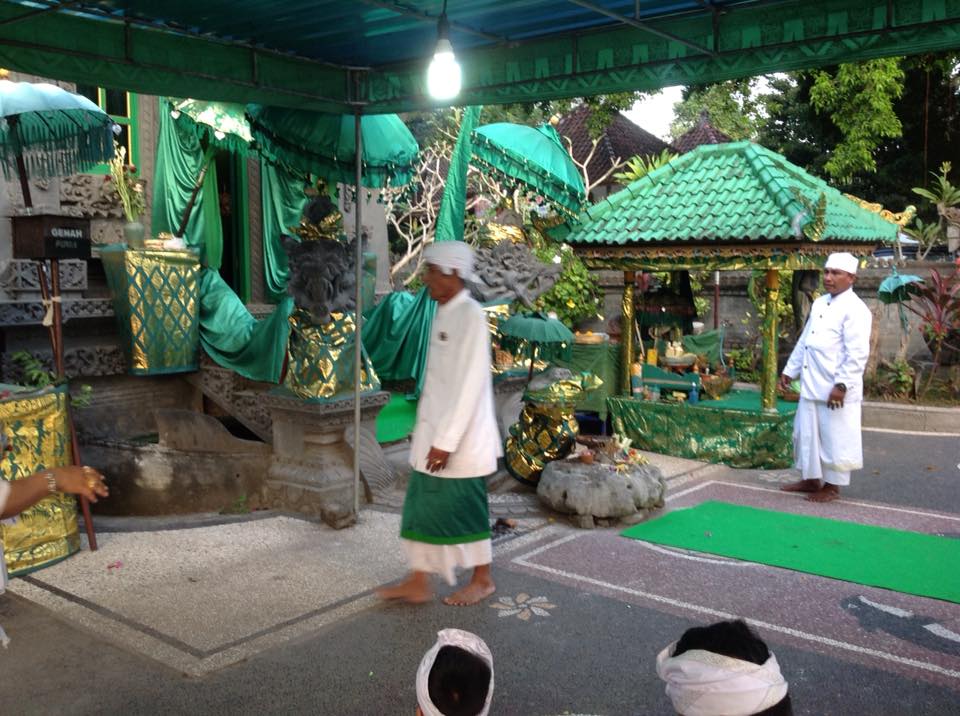 The Priest motioned to us to sit on the ground again whilst he went into the temple to pray. This time I sat at the end of the row and was able to watch him listen to what appeared to be him listening to messages. He held something in his hand but I could not see it. It was being Blessed and he nodded his head in Agreement.
When the Priest came out of the Temple, we all stood up. He came over and stood in front of me and held out a "Selendang hijau or green ceremonial scarfe. Ratna interpreted the High Priest's message for me, the message he had received from the Goddess of the Sea. The message was this "You are Gifted and Blessed. The Goddess of the Sea has blessed this green ceremonial scarfe for you. Please wear it every time you do your work." Ratna, through her tears continued on to tell me that not even her as a Priestess has had a green ceremonial scarfe presented to her. Her family stood close to me in quiet support. Dumbfounded. Ratna told me that this was indeed the highest honour that could ever be bestowed on anyone, but doesn't, unless someone is a High Priest and that it represented acknowledgement of my Gift by The Goddess of the Sea and the Universe.
What could I say?
What could I do?
Nothing except shake and Trust!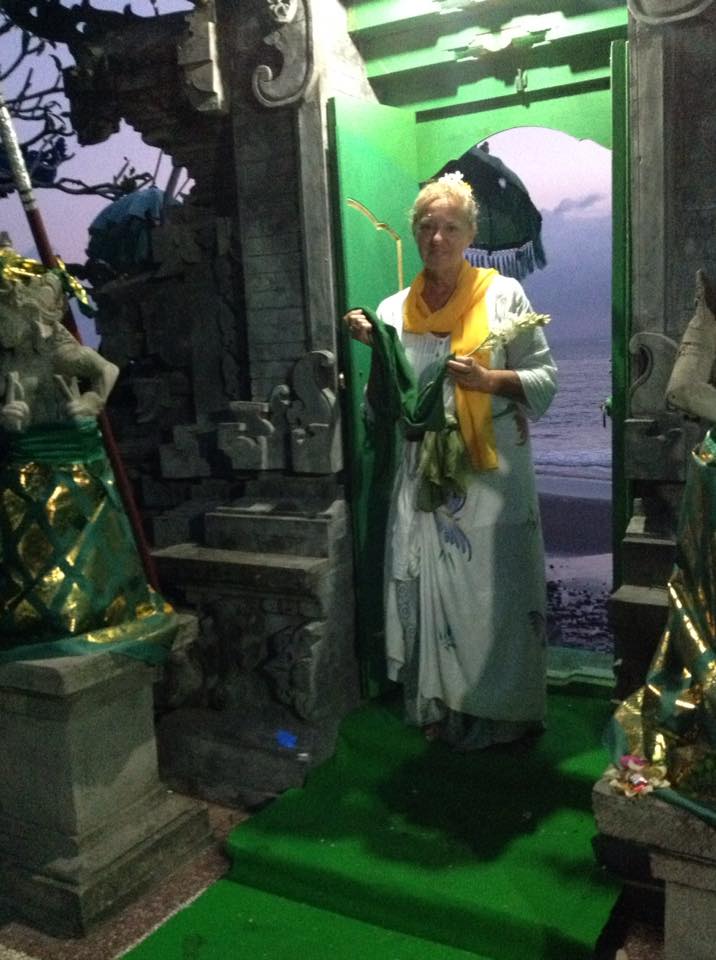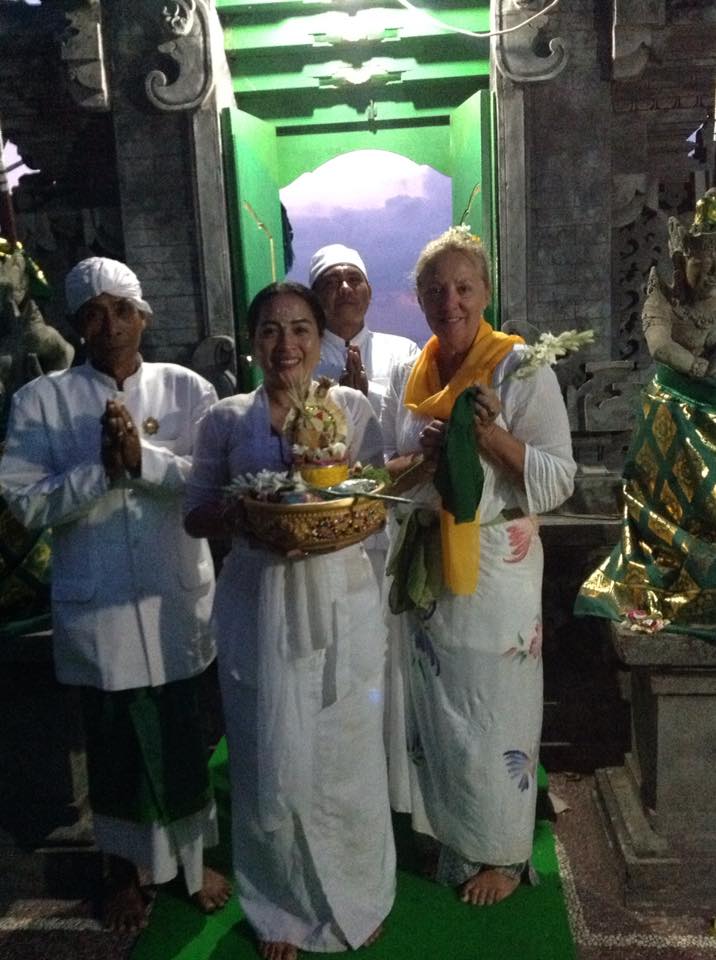 Temple of the Sea. One of the Holiest temples in Bali and one where the Goddess of the Sea is worshipped. (see photos).
They were there for me.
It's very hard for me to accept help from others, I am normally the one to help others.
But on this day, I surrendered.
After a short while we left and walked behind the temple where another community temple was celebrating yet another celebration (as they do in Bali! ~ Everything is worth celebrating in Bali!) Ratna and her Family were welcomed and the Priest performed yet another ceremony for us all. This was such an incredibly profound and Special day for all of us, particularly Ratna and I, particularly….Me!
Ratna was asked to parade the offering for our ceremony (there was just us there at the time as it was now quite late at night). The music from the Balinese instruments, the combined smell of incense and frangipani in the air was hypnotic.
I knew I would never be the same again on a Soul and Spiritual level.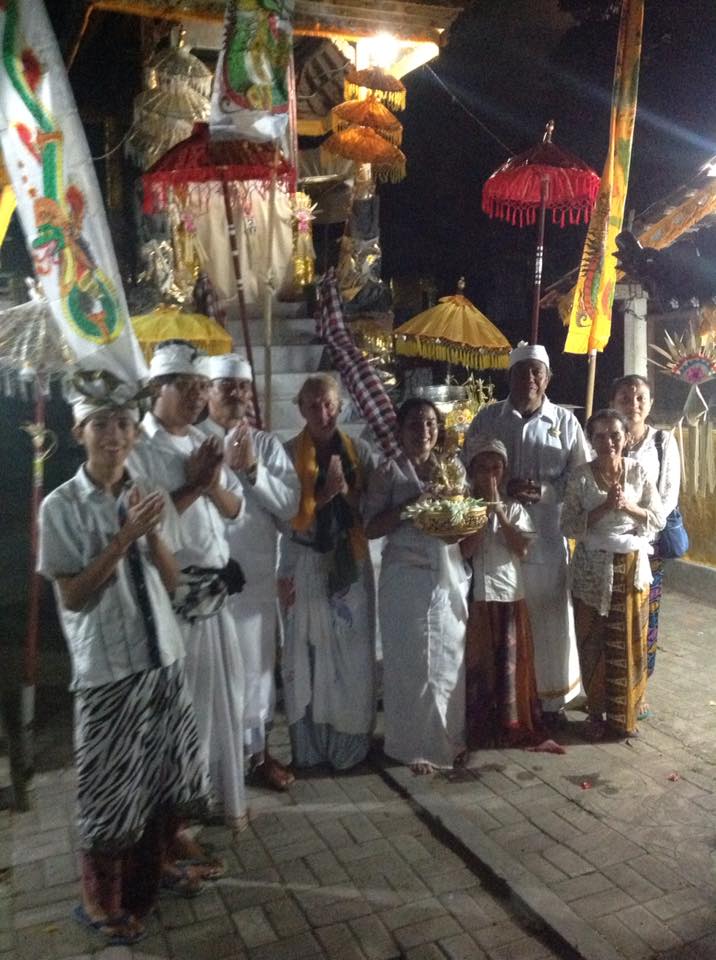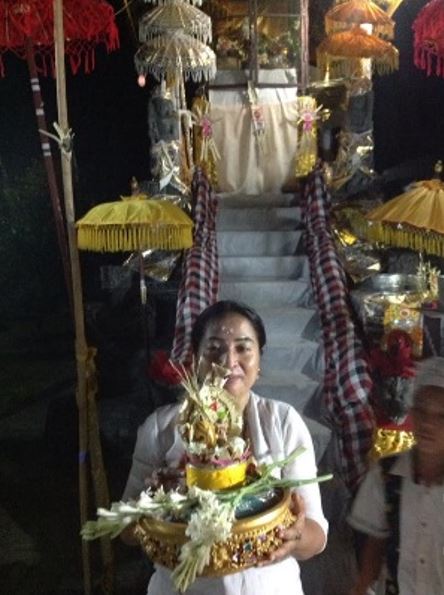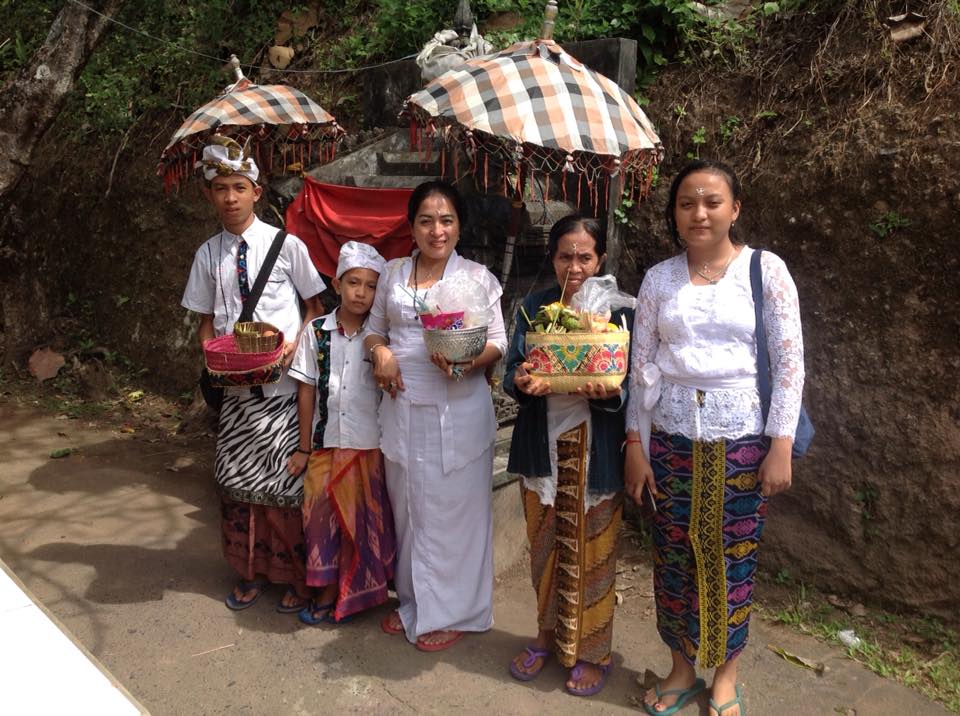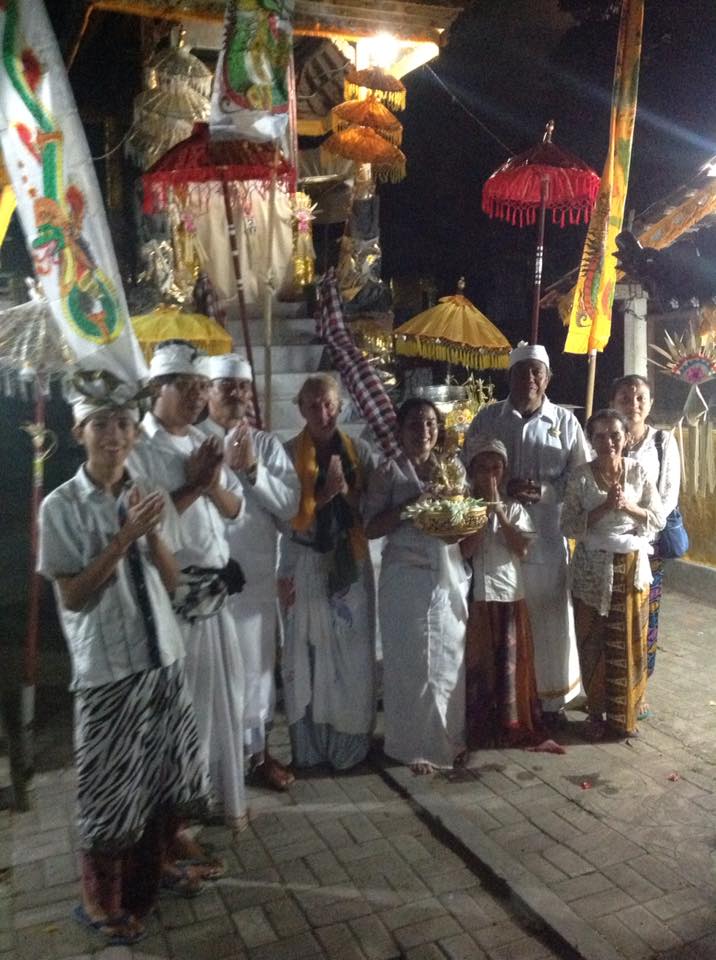 12 MONTHS LATER….
On 4 July 2018, (3 weeks after leaving Bali), I headed out of South Australia ~ destination Nelson Bay in the Port Stephens area of New South Wales towing my 21′ caravan behind me ~ alone! Was I running away from all the grief, loss and immeasurable sadness that I had experienced in the 2-3 years prior?
Or
And what I think is more accurate ~ I was actually running towards the best location of all ~ ME!

I truly believe that if I had not have experienced my Miracle in Bali, I would not be alive today. I would have died from my own broken heart. Such was the extent of my sadness.
Whilst I still have terrible bouts of grief and sadness and huge waves of regret, guilt and personal doubt, I know these emotions to be of my mind! A mind that constantly provides resistance to what I know in my Heart and Soul to be pure Universal Love. A Soul so pure and unconditional that I just love sharing with you all.
My Miracle in Bali gave me the strength to live!
I am my own proof that miracles exist!
From my heart to yours
I am Marion Weatherburn and I am a truly Gifted Psychic and sometimes Medium and My Soul's purpose is to share my Psychic and Spiritual Gift with you all, so that you too can experience miracles on your own Spiritual Journey as you inhabit your body in this lifetime. Let me help show you the way.
With sincere eternal thanks and gratitude to ~ I dedicate this story to:
Ruth and Atta
Ina Pendit
Ratna Geni and her beautiful husband and children
All the Priests who didn't know me but knew my Soul and everyone else I met on those incredible 5 days of healing in Bali!
And of course ~ My Mum and Dad and Team.